Buffalo Bills Adding Second Practice Field at New Era Field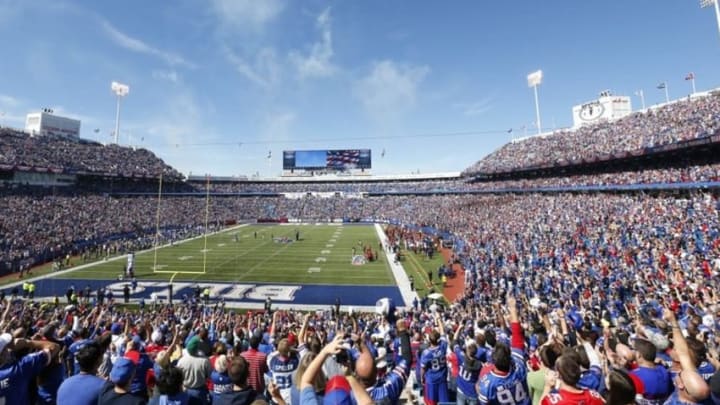 Sep 25, 2016; Orchard Park, NY, USA; The US Air Force flies over during the National Anthem before the game between the Buffalo Bills and the Arizona Cardinals at New Era Field. Mandatory Credit: Kevin Hoffman-USA TODAY Sports /
The Buffalo Bills have announced they will be adding a second practice field to New Era Field soon.
On Friday, the Empire State Development approved the Buffalo Bills for a second practice field, which will be added behind the Ralph Wilson Fieldhouse and AdPro Training Center. This will be the team's second practice field added to New Era Field.
The Buffalo Bills are in the midst of a $130-million makeover for New Era Field and its' campus, a makeover that will include renovations to the stadium. As for the practice field, it will cost a total of $4.3 million and will be paid in full by the Bills. Work is expected to begin this spring, with the facility ready to go by the time OTA's begin.
It was also announced that Erie County will be investing $550,000 to create a two-lane road that winds around the new field. This is the only expense not being paid by the Bills.
Adding the second practice field will give the Buffalo Bills another practice venue in 2017. With how the 2016 season ended and how the 2017 offseason has gone so far, the Bills will need to make good use of these practice fields if they want to compete for the playoffs next season.
MUST READ: Buffalo Bills Better Off Letting Stephon Gilmore Walk in Free Agency
Let this be known, this addition is no indication of whether or not the Bills are preparing to build a new stadium when their current lease is up in 2023. This was confirmed by Howard Zemsky, the CEO of Empire State Development — who would have to be involved in those talks.
According to Buffalo Business First, Zemsky had this to say:
""There's been no active conversions in the past year," Zemsky said. "To do anything else is mere speculation. There's been a lot of work and a lot of money invested in the stadium.""
When the team hired Sean McDermott as their new head coach, it was clear that they were ready to change the culture in Buffalo. Hopefully that new culture involves a lot of practice and hopefully a lot of wins.
Only time will tell.
Next: Re-Signing Chris Gragg Will Help the Bills' Passing Game
What do you think of the Buffalo Bills adding a second practice field to New Era Field? Leave your comments below!