Muhammad Ali Could Teach Rex Ryan Plenty About Trash Talk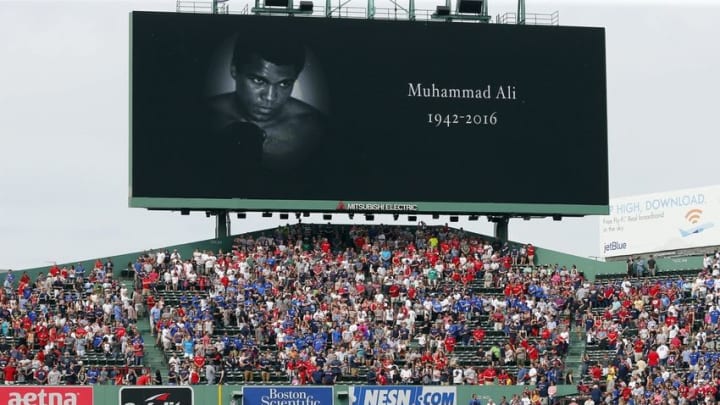 Jun 4, 2016; Boston, MA, USA; Fans and players stand for a moment of silence in honor of Muhammad Ali before the game between the Boston Red Sox and the Toronto Blue Jays at Fenway Park. Mandatory Credit: Winslow Townson-USA TODAY Sports /
Dec 6, 2015; Orchard Park, NY, USA; Buffalo Bills head coach Rex Ryan argues a call with a referee during the first half against the Houston Texans at Ralph Wilson Stadium. Mandatory Credit: Timothy T. Ludwig-USA TODAY Sports /
What can Buffalo Bills Head Coach Rex Ryan learn from Muhammad Ali about trash talk? Plenty.
I am no boxing junkie but Muhammad Ali, who passed away two days ago, was definitely my favorite boxer of all-time. He was controversial, inspiring, a threat to the establishment, a champion of the people, he was masterful with his quotes and could talk trash better than anyone who ever existed.
He was a man who was confident in his abilities and had no problem letting you know that he knew he was good. Buffalo Bills Head Coach Rex Ryan is equally confident in his abilities and consistently shares his opinions about his confidence with the media. The only problem for Ryan has been, unlike Ali, historically he has promised way more than he has delivered over the years and it has backfired on him. So what can Ryan learn from Ali?
One lesson is that you can talk all you want but if you want to be respected by the masses you need to back up your words with actions. Ali talked a big game but he backed it up way more often than not.
More from BuffaLowDown
In 1964 he had a matchup against the Heavyweight Champion Sonny Liston. Leading up to the fight Ali, who was a huge underdog, called Liston "the big ugly bear" and said, "After I beat him I'm going to donate him to the zoo." And you know what Ali did? He went out and beat the Heavyweight Champion earning the belt and backing up his words.
Ryan, on the other hand, has promised the playoffs, the Super Bowl, and plenty more but there are Jets and Bills fans still waiting for most of his promises to come true. That is why the media scrutinizes his every word. If you are going to talk a big game you need to make sure you deliver.
Ali's trash talk and antics were mostly meant to exploit a psychological weakness in his opponents. It was meant to anger them so on fight night they were focused on his words rather than the nuances of the fight. Whether it was calling Ernie Terrell an "Unce Tom" between punches during their fight, or telling Joe Fraiser that he's "too dumb to be champion", he was always looking for a specific reaction which he could use to his advantage.
Ryan is a great trash talker as well. We all know that Rex is not going to "kiss Bill Belichick's, you know, rings". Remember when as Jets Head Coach he said "I think we have to find somebody out there to beat New England besides us, I think that would help. Anybody out there want to sign up for it? Are you good enough as a team to beat the New England Patriots? I'm challenging the league." That was great and all but Rex's all-time record versus the Patriots currently stands at 4-11. Not exactly backing up his words.
What Rex needs to understand is rather than just talking wildly about anything that pops into his brain, he can still talk trash but he should attempt to do so in a manner that is more specifically psychological and targeted to illicit a response. Currently, he seems to speak in a way that one who had a few too many drinks in a bar would do. I like Rex's bravado and some of his statements can be fun, but he needs to work on the specific words he uses and understand that his words and promises come with consequences.
Ali always tried to portray himself as the "people's champion" whether or not it was true. He was a champion for many people, but there were many others who despised him because of his religion, his confidence, his outspoken nature and the color of his skin. Despite his detractors, he was still able to use the media to villainize his opponent as part of the establishment and make himself into a sympathetic figure who the everyday person could rally around.
Ryan attempts to do the same. Whether it's with his Buffalo Bills pickup truck, his frequent appearances at Sabres games, or his desire to interact and be a member of the Buffalo community, he too tries to portray himself as a man of the people. A blue collar hard working guy who just loves football and wants to win. He has made his team out to be the underdog when he feels it is warranted against the establishment that is the New England Patriots.
Ali was also a brilliant game planner. His "rope a dope" strategy was so masterful it was practically "Belicheckian". He led George Foreman to believe he was winning only to tire him out and knock him out in the eighth round in 1974 in the fight termed the "Rumble in the Jungle".
Even Foreman had to admit "Muhammad outthought me and outfought me" after the fight. Let's hope one day Bill Belichick has to say this about Rex Ryan after a big playoff game against the Bills. Let's hope that Rex can learn a thing or two from my favorite boxer of all-time and take a targeted, psychological, and thoughtful approach to his trash talking.
must read: Bills Running Backs 10th Best At Any Position In The NFL?
I am not asking Rex to stop having fun, I want Rex to be fun. What I don't want is for Ryan to become the joke of the NFL. Instead, I hope to see him achieve the greatness that Muhammad Ali did one day. I would love to hear Rex use my favorite Ali quote and proclaim one day after winning the Super Bowl with the Bills "If you even dream of beating me you'd better wake up and apologize".