Buffalo Bills need a backup QB with Mitchell Trubisky signing with Steelers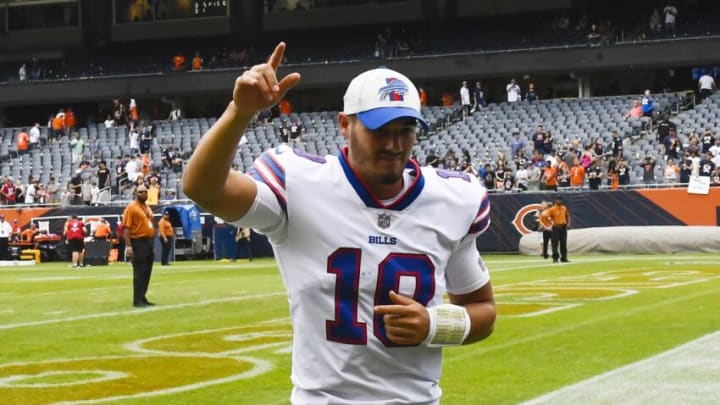 Mitchell Trubisky, Buffalo Bills (Mandatory Credit: Matt Marton-USA TODAY Sports) /
While it seemed like it was a likely situation, it was made official on Monday that the Buffalo Bills would have a new backup quarterback in 2022. Their backup last year, Mitchell Trubisky reportedly agreed to a two-year deal with the Pittsburgh Steelers.
Last offseason, it was a surprise when Buffalo signed Trubisky to a one-year deal. He was coming off a tumultuous start to his career with the Chicago Bears and was looking to get a reset, which he seemed to achieved with how free agency played out this year.
He now heads to the Pittsburgh Steelers who are looking for a quarterback to replace Ben Rothlisberger, who retired after the season. The other quarterbacks on the roster are Mason Rudolph and Dwayne Haskins.
While it isn't a guarantee that Trubisky will be the starter, he should be considered the favorite. The fact that it was a two-year deal could be an indication that Pittsburgh could add a quarterback in next month's NFL Draft but with Trubisky on the roster, it isn't a necessity.
Where do the Buffalo Bills go from here at backup quarterback?
The Buffalo Bills now only have one quarterback under contract on the roster in Josh Allen. In addition to Trubisky, Davis Webb signed with the New York Giants after the season and Jake Fromm was claimed off the practice squad during the season by the Giants.
While the hope is that the backup quarterback doesn't play any meaningful snaps during the season, it is still an important position to address. The Bills are a team that has Super Bowl aspirations and if the team were to lose Allen for an extended period of time, having a quality backup is important.
Fortunately, general manager Brandon Beane should have plenty of options in free agency. Another option would be to add a quarterback in the later rounds of the NFL Draft but that carries risk in the fact that they may not be ready to play if the need were to arise.