2020 Preseason All-AFC East Defense: Bills and Patriots lead the way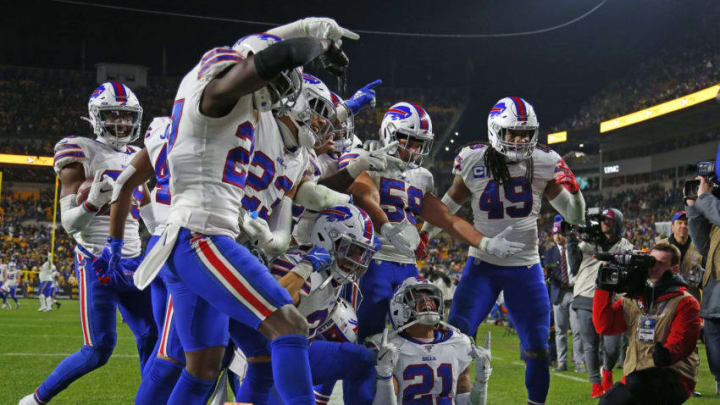 PITTSBURGH, PA - DECEMBER 15: Levi Wallace #39 of the Buffalo Bills celebrates with his defensive teammates after catching an interception in the fourth quarter against the Pittsburgh Steelers on December 15, 2019 at Heinz Field in Pittsburgh, Pennsylvania. (Photo by Justin K. Aller/Getty Images) /
LANDOVER, MD – OCTOBER 06: Devin McCourty #32 of the New England Patriots in action in the first half against the Washington Redskins at FedExField on October 6, 2019 in Landover, Maryland. (Photo by Patrick McDermott/Getty Images) /
Starting Free Safety: Devin McCourty, New England Patriots
Devin McCourty has been one of the constants for the Patriots dynasty for the last decade enjoying three Super Bowls with the Patriots.
With 58 tackles, 5 interceptions and 7 passes defended, McCourty had another great season helping out a dominant Patriots secondary. Finishing with a solid approximate value of 9 he just added to another consistent season he churns out.
His 5 picks were the second-most in his career and at the age of 32 he hasn't shown signs of slowing down.
Backup: Micah Hyde, Buffalo Bills
Micah Hyde, one of the better ball-hawking safeties in the NFL along with McCourty, has been one of the biggest reasons the Bills are so privy to not giving up the big play.
Despite only having 72 tackles,1 interception last season and only 2 passes defended Hyde's presence in the back half of the defense forces quarterbacks to think twice about throwing it into his area. Hyde still provided an approximate value of 8 which is tied for his best season but what Hyde did on the field was much more than what showed in the box score. Hyde showed his exceptional ball skills that even tricked the greatest player of all time:
Starting Strong Safety: Jamal Adams, New York Jets
One of the best young stars in the NFL, Jamal Adams has become without a doubt the best player on the Jets roster and one of the best within the division.
Adams racked up 75 tackles, 1 interception, 7 passes defended and had an insane 6.5 sacks which is unheard of for a safety. With an average value of 13, Adams adds show much value on the box score but even more on field with his hard hitting that no doubt makes receivers think twice about crossing his path.
At only 24 years old, Adams will continue to be a large presence within the division for years to come. That is as long as the New York Jets don't trade him.
Backup: Jordan Poyer, Buffalo Bills
Jordan Poyer has been a great player for Buffalo over his three years so far with the franchise, and has gotten better every year.
Finishing 2019 with 107 tackles, 2 interceptions, 1 sack and 3 passes defended, Poyer contributed all over the field. Having Poyer's pop and his great coverage ability makes him a great two-tool safety for Buffalo. He accumulated an approximate value of 8 which was tied for his best season yet.