Buffalo Bills: Ranking the wide receivers in the AFC East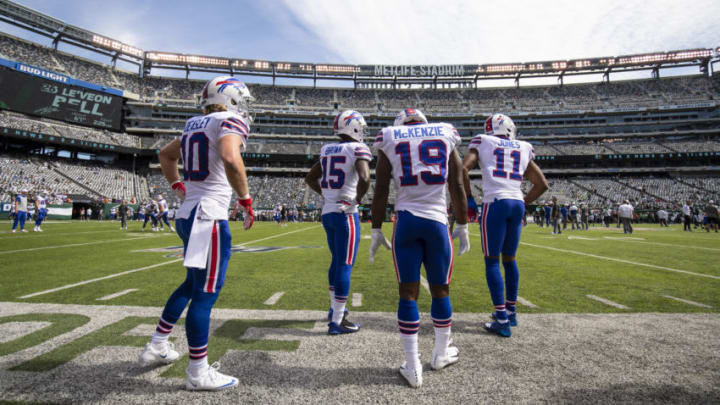 EAST RUTHERFORD, NJ - SEPTEMBER 08: Buffalo Bills offensive players warms up before the game against the New York Jets at MetLife Stadium on September 8, 2019 in East Rutherford, New Jersey. Buffalo defeats New York 17-16. (Photo by Brett Carlsen/Getty Images) /
ORCHARD PARK, NY – SEPTEMBER 29: Andre Roberts #18 of the Buffalo Bills warms up with Cole Beasley #10 before the game against the New England Patriots at New Era Field on September 29, 2019 in Orchard Park, New York. New England defeats Buffalo 16-10. (Photo by Brett Carlsen/Getty Images) /
1) Buffalo Bills
Projected Starters: Stefon Diggs, Cole Beasley, John Brown
No, this list is not biased. It should be obvious that the Buffalo Bills have the best wide receiving group in the division based on the top three names alone, but there are stats to support this ranking. Before the arrivals of Cole Beasley and John Brown, the wide receivers for the Buffalo Bills were average at best. Back in 2018, names like Robert Foster, Kelvin Benjamin, and Zay Jones were not names that struck fear into opposing defensive coordinators.
Brandon Beane proceeded to change that with the signings of Beasley and Brown in the 2019 offseason. Then he added Stefon Diggs in a blockbuster trade during the 2020 free agency frenzy. With relatively good depth at the position, the Bills have an offense that can be feared by others not just within the division, but the rest of the league.
To put things into perspective, here are some number comparisons for Buffalo's top 3 receivers in 2018 versus Buffalo's current top 3 receivers in 2019. It is amazing what a difference a year can make.
2018 Wide Receivers:
Zay Jones: 56 receptions, 652 yards, 7 touchdowns
Robert Foster: 27 receptions, 541 yards, 3 touchdowns
Kelvin Benjamin: 23 receptions, 354 yards, 1 touchdown
2020 Wide Receivers:
Stefon Diggs: 63 receptions, 1,130 yards, 6 touchdowns
John Brown: 72 receptions, 1,060 yards, 6 touchdowns
Cole Beasley: 67 receptions, 778 yards, 6 touchdowns
There is a lot to be said that the Buffalo Bills offense can only go as far as Josh Allen can take them. One stat that sticks out like a sore thumb is that Allen has yet to throw for over 300 yards. The most he has thrown for is 266 yards in a 19-16 loss at Cleveland last season. Much of that argument can be contributed to Allen's deep ball accuracy which he has been working hard at fixing.
These three wide receivers make the Buffalo Bills stand at number one because they can all produce, as shown in the chart above. They were even recently ranked as the fifth best wide receiver group in the NFL by Pro Football Focus.
They are healthy, they have speed, they have great route running ability and they can all get after the ball. No they are not DeAndre Hopkins or Michael Thomas, but let it be known that this is a very solid 1, 2, 3 punch for the Buffalo Bills heading into the 2020 season.