Buffalo Bills are America's Team in Week 16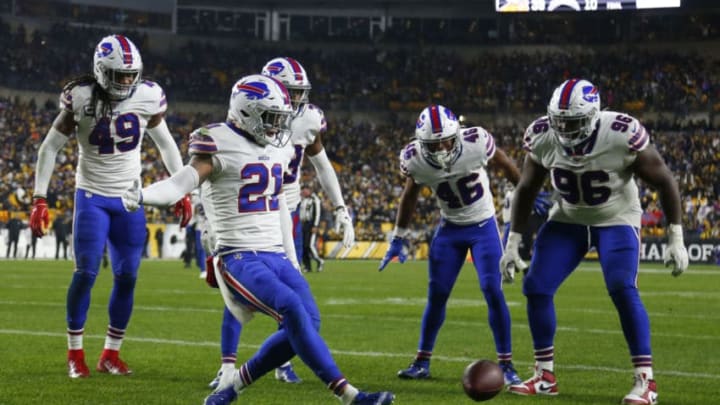 PITTSBURGH, PA - DECEMBER 15: Jordan Poyer #21 of the Buffalo Bills celebrates after an interception in the fourth quarter against the Pittsburgh Steelers on December 15, 2019 at Heinz Field in Pittsburgh, Pennsylvania. (Photo by Justin K. Aller/Getty Images) /
The Buffalo Bills could knock the New England Patriots down a notch this weekend and it seems as though much of America wants to see that happen
This weekend, the Buffalo Bills will be facing a familiar foe in the New England Patriots. As is always the case when they play their division rival, the 'New England is great' talk fills the airwaves.
That's because everyone who watches the NFL understands how good this team is and how impressive of a run the Patriots have been on. They've owned the AFC East title every season since 2008 and just secured their 11th-straight playoff berth.
While their fans are surely enjoying their winning ways, the rest of the football-watching world has had just about enough. That's a point Mark Cannizzaro of the New York Post makes as he says America will be looking to Buffalo this season needing a hero to knock off New England.
More from BuffaLowDown
""It also elicits a collective yawn from the many NFL fans who have Tom Brady and Bill Belichick fatigue. Whether the good people of New England want to acknowledge it or not, most of America wants someone else other than the Patriots to win the Super Bowl — or be in the Super Bowl at all.With this, we present to those outside of Patriots Nation your potential new heroes: The Buffalo Bills." — Cannizzaro, New York Post"
One of the things that makes a dynasty so interesting is seeing how a league's fan base can come together and collectively root against one team. For years in the MLB, this was the case as fans tired of watching the New York Yankees win a title.
There was also a time where many fans in the NBA wanted to see the Shaq and Kobe-led Los Angeles Lakers go down. In college football, there's currently a section of fans who are elated when Nick Saban and Alabama lose a game.
For years, this has been the way fans feel about the Patriots. Sure, they're well-coached and do all the little things that make a team great but they have their flaws as well.
New England has been caught cheating several times from their sideline-taping to their deflation of footballs. There was also the off-field incident from owner Robert Kraft that was quickly swept under the rug.
To sum it up, the Patriots are a very unlikeable team whereas the Buffalo Bills are not. That means there will be plenty of fans tuned in cheering on Buffalo as they want to see Goliath knocked down a peg.
Which makes the Bills, even if only for one weekend, America's Team,.