Buffalo Bills: Memorable home opener moments from past 20 years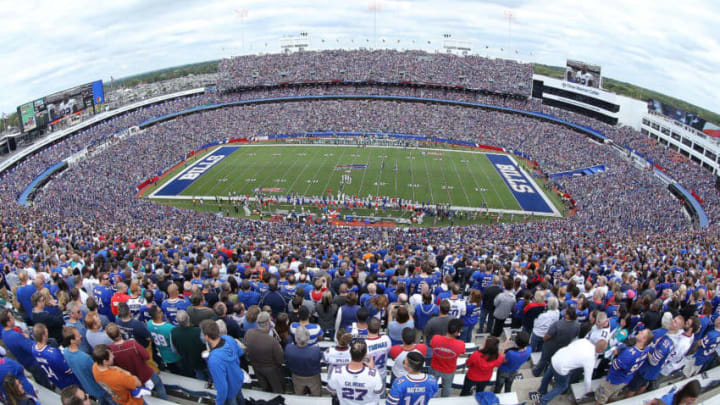 ORCHARD PARK, NY - SEPTEMBER 14: A general view of the staduim during the first half of the game between the Buffalo Bills and the Miami Dolphins at Ralph Wilson Stadium on September 14, 2014 in Orchard Park, New York. (Photo by Tom Szczerbowski/Getty Images) /
ORCHARD PARK, NY – SEPTEMBER 14: A general view of the staduim during the first half of the game between the Buffalo Bills and the Miami Dolphins at Ralph Wilson Stadium on September 14, 2014 in Orchard Park, New York. (Photo by Tom Szczerbowski/Getty Images) /
These are the most memorable moments from home openers for the Buffalo Bills over the past 20 years.
While it is always exciting to start the regular season, there is something extra special the first time an NFL team takes the field in front of their home crowd. Entering Week 3, the Buffalo Bills will finally get that chance when they face the Cincinnati Bengals.
There is no question that New Era Field is going to be electric with the Bills currently 2-0 after two trips to MetLife Stadium. In the first week of the season, the Bills came back from 16 down to beat the New York Jets 17-16. Then this past Sunday built an early lead as they cruised to a 28-14 win over the New York Giants.
Aside from the fact that the Bills are undefeated, this game will have a special meaning for plenty of fans. Prior to the game against the Bengals, the organization will be honoring Pancho Billa. He was one of the most recognizable fans, and even announced the Bills' third round draft pick in the 2018 NFL Draft.
Sadly, he lost his fight with stage four cancer this past May.
There is no question that this game is going to be emotional and will join this list of memorable moments for home openers in recent Bills history.