Buffalo Bills: Players who helped and hurt their roster stock Friday night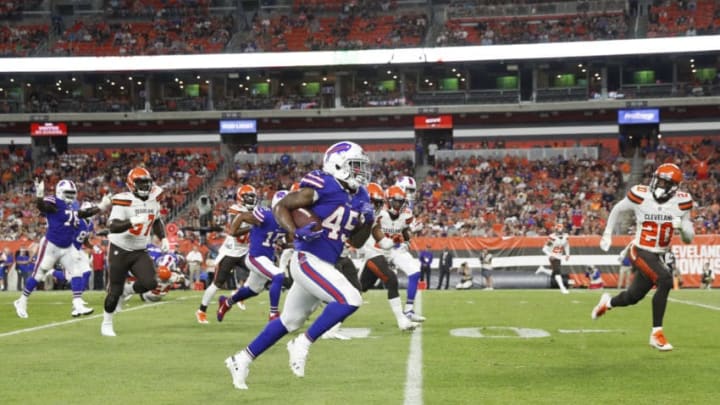 (Photo by Joe Robbins/Getty Images) /
The Buffalo Bills defeated the Cleveland Browns by a score of 19-17 on Friday night. Let's take a look at three players who helped and three who hurt their chances of making the roster.
Last night the Buffalo Bills defeated the Cleveland Browns by a score of 19-17.
Along the way several players both helped and hurt their roster stock in terms of making the final 53-man roster.
Let's take a look at three players who helped, and three players who hurt their roster chances in last night's game in Cleveland.
3 Bills who helped roster stock:
TE Nick O'Leary
Heading into the game, O'Leary had been mentioned by several analysts and reporters as someone who could very well be on the roster bubble. O'Leary spent most of training camp and the preseason relegated to working with the third offensive unit.
Both Jason Croom and Logan Thomas had seemingly passed O'Leary by on the depth chart. But last night O'Leary showed he is not going down without a fight and helped himself in a big way. O'Leary was targeted four times and hauled in each to end the night with four catches for 70 yards and the game-winning 35-yard touchdown catch on a nice pass from Nathan Peterman.
If O'Leary can put together another nice game and build off this performance he might move back up the depth chart after all.
At this point there is no denying that Murphy has been an absolute star during training camp and the preseason and has all but locked in his place on the 53-man roster.
It may rather be a question about where he is on the running back depth chart and not if he will make the team. Last night Murphy had four carries for 39 yards to go along with a 39-yard punt return. Murphy just seems to make plays. He is a hard runner who also shows speed and elusiveness.
He has been featured prominently in both preseason games and before all is said and done may find himself passing Chris Ivory for the second running back spot behind only LeSean McCoy. To say that Murphy has been great would be selling him short.
WR Rod Streater
While Streater did not have the biggest stat line of the night (two catches for 10 yards and a touchdown) he did show why the Bills have held on to him going back to last preseason when he was injured. Streater had a nice touchdown catch on a beautiful pass from Josh Allen and showed that he can get open and make catches when the ball is thrown his way.
That may sound rather simple but on a team that is still sorting out its wide receiver depth chart that speaks volumes. If Streater can have good chemistry with Josh Allen that also helps his roster stock because if Allen is the starter than he will need receivers who he is on the same page with.
While the wide receiver competition is still very much wide open with only two preseason games left, Streater has done what he can to help his chance of making the 53-man roster.
3 Bills who hurt roster stock:
Even before McCarron suffered the reported collarbone injury he was having a night to forget. McCarron finished the game going 3 for 6 for a paltry 12 yards and failed to gain a single first down. He also took a sack, showcasing his penchant for holding onto the ball to long.
While it was not all McCarron's fault, he did not look comfortable at all and seemed unwilling to throw the ball down the field at all. McCarron was brought in by the Bills to be the veteran quarterback in the room, but his salary and dead-cap hit are fairly insignificant. Depending on how long McCarron will be out, the Bills may opt to move on which would mean McCarron played his last game in a Bills uniform.
The Bills are now forced to bring in a third quarterback to get through the remainder of the preseason in order to prevent injury to Allen or Peterman. Depending on how comfortable the Bills are with Allen and Peterman being the only quarterbacks on the roster will also dictate what type of quarterback the Bills bring in.
Will they bring in another veteran type to replace McCarron or will they simply bring in a "camp body" type of quarterback to simply get through the rest of the preseason only to inevitably cut him after the preseason finale? Time will tell on that front, but no matter how you shake it out last night was not a good one for McCarron.
WR Brandon Reilly
It may seem odd to have a player listed here that did not take a snap last night, but the fact that he was unable to play certainly hurt Brandon Reilly's roster stock.
Reilly was thought to have a leg up on the competition heading into training camp in terms of making the roster due to spending last season on the Bills practice squad, but has failed to make that expectation a reality. While Reilly did have a nice catch and run against Carolina, he has not done very much else of note in training camp or the preseason to help his case to make the roster.
While it is unfortunate that Reilly is hurt and was unable to play last night to try to help his case, you can't hold that against the players who could and did play and showed that they should make the 53-man roster. While Reilly still has two preseason games left to make a mark and try to make the final roster, the days are becoming shorter and the time is now.
Hopefully for Reilly's sake he can get healthy before next Sunday's game against Cincinnati.
Cadet was thought to be fairly safe in terms of roster status heading into training camp. He has been outplayed by Marcus Murphy since.
Last night Murphy once again showed his explosiveness, while Cadet failed to impress. Cadet finished the night with five carries for eights yards and one catch for three yards, while also fumbling the ball once. In terms of how the night played out it could not have gone much worse for Cadet. While Murphy showed up big time, Cadet flopped big time.
When you are in a competition for a roster spot and your competitor has a big game you need to at least match his output. Cadet did the opposite. At this point Cadet has a long way to go if he wants to get back on the better side of the final 53.
Last night we began to see some separation in some of the roster battles, but there is a long way to go. We are only halfway through the preseason and often times the fourth preseason game (while the least of importance for many players) goes a long way in determining who does make the final 53-man roster and practice squad.
Next week is the "dress rehearsal" preseason game so we will have to tune in to see how these and other roster competitions play out.