Buffalo Bills News: Kelvin Benjamin and the other guys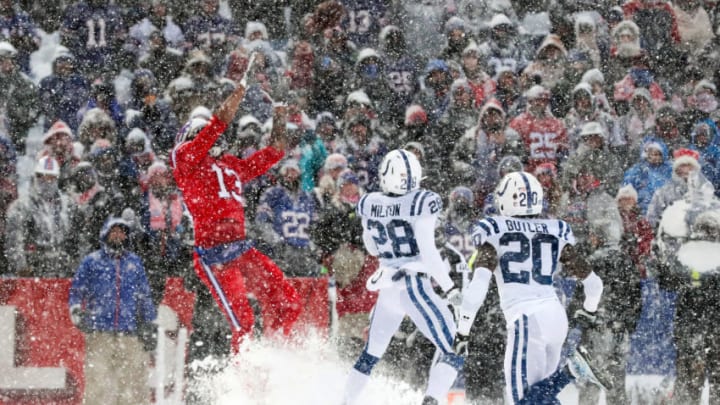 (Photo by Tom Szczerbowski/Getty Images) /
The Buffalo Bills wide receiver depth chart is wide open after the top guy. We take a look at that and more in a Friday edition of The Morning Charge.
Kelvin Benjamin has all the tools necessary to become a true No. 1 receiver for the Buffalo Bills. But this year may be his only shot as he is still set to become a free agent after the season.
Benjamin is on the final year of his rookie deal and enters training camp at the top of the depth chart at receiver. That is somewhat by default as the rest of the receivers on the roster are essentially fighting for jobs. Zay Jones should be assured a spot, but he will have to prove himself after a lackluster rookie year and his infamous offseason incident.
While everyone is talking about the quarterback competition, there will be a battle just as intriguing taking place at receiver.
The good news for Bills fans is that the team enters the season with a prototypical No. 1 receiver in Benjamin. But based on his career performance up to date, that No. 1 status may be in question after the season if he doesn't have a career year.
Here's a look at that and more in today's edition of The Morning Charge.
Buffalo Bills News:
Kelvin Benjamin seen as clear No. 1 receiver in ESPN article (BuffaLowDown, Steven Kubitza)
ESPN went through and looked at the No. 1 receivers on each NFL team. As stated above, that is Benjamin for the Bills. However, he needs to prove himself this year to have a shot at becoming a mainstay in Buffalo.
Joe Ferguson named in special QB power rankings (BuffaLowDown, Steven Kubitza)
This article took a look at some power rankings of quarterbacks who served as teases for each NFL franchise. And for the Bills, the easy choice was Joe Ferguson.
PFF ranks Bills roster as NFL's 16th best (Bills Wire, Nick Wojton)
Pro Football Focus recently ranked NFL rosters and as is customary, the Bills came in right in the middle. That could easily change if some of the new guys light it up in 2018.
Chiefs are moving Sammy Watkins "everywhere" in their offense (PFT, Charean Williams)
For those interested, a look at what Sammy Watkins is up to in Kansas City. This will be an interesting year to watch how he does compared to Benjamin.