Buffalo Bills: Likelihood of using the franchise tag in 2018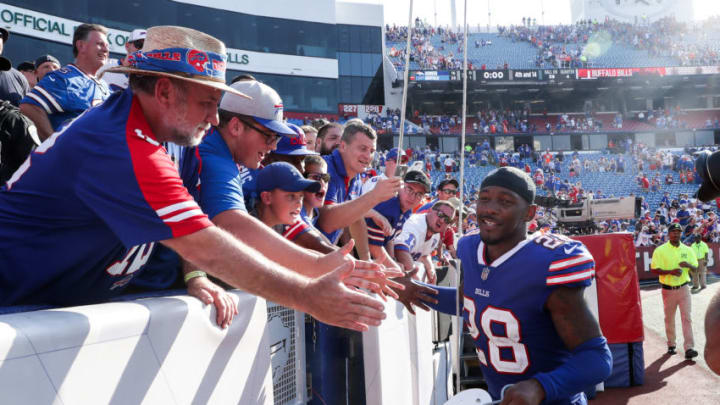 (Photo by Tom Szczerbowski/Getty Images) /
The Buffalo Bills have some talented players hitting free agency this year, but the chances of using the franchise tag remain slim.
NFL teams are officially able to use the franchise tag beginning today up until March 6.
Big names like Kirk Cousins and Le'Veon Bell headline the potential candidates, but Buffalo Bills fans may be wondering if the team plans to use the tag on anyone.
As of right now, it doesn't seem too likely. That could change, but the Bills don't have that superstar free agent they need to retain for a single year that is worth a major deal.
A simple Twitter search brings up several articles all declaring that no one on the roster is worth the tag. As an NFL.com article explains, the most common version of the franchise tag involves paying a player as a top five guy at his position. And with rising salaries at certain positions, that becomes less feasible with each passing year.
The one impending free agent that could come up as a candidate is E.J. Gaines, but I wouldn't count on the tag being placed on him. A Bleacher Report article gives the figure of about $15 million for a defensive back tag in 2018. With under $30 million in cap space this offseason, that deal would cripple any other plans by the Bills to improve the roster.
The franchise tag is perfect for keeping star players on a roster when long-term contract negotiations are taking some time. The Bills simply don't have that player. And that is just fine.
The main focus right now, given the team doesn't hand out a franchise tag, is on Tyrod Taylor's contract situation. Cutting him opens up a lot of cap space to target some big free agents, or even to pay two first-round picks if the Bills decide to keep and use both picks.
Next: Six prospects to watch for at the NFL Combine
A lot has to be decided, and the salary cap number should remain constant as the team won't hamstring itself with a franchise tag. Looking at you, Washington.