Buffalo Bills trash gameplan in Snow Bowl victory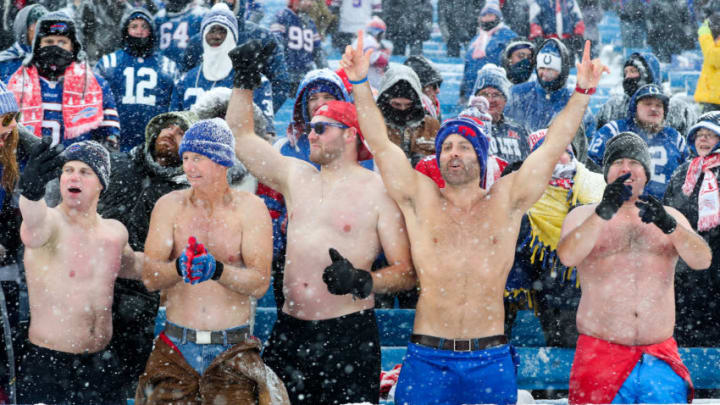 ORCHARD PARK, NY - DECEMBER 10: Fans cheer during while not wearing shirts during the fourth quarter of a game between the Buffalo Bills and Indianapolis Colts on December 10, 2017 at New Era Field in Orchard Park, New York. (Photo by Tom Szczerbowski/Getty Images) /
The Buffalo Bills spent all week preparing for the Indianapolis Colts. They were ready for Jacoby Brissett throwing the ball 30 times a game, and TY Hilton catching a deadly deep ball. What they saw Sunday was not that.
It was a peculiar scene Sunday. The camera panned over the crown multiple times, and of course, the Bills Mafia showed up. Snow was piled up on the fans heads as they stood and cheered. Buffalo would score, and snow would be thrown in the air like confetti.
ORCHARD PARK, NY – DECEMBER 10: Fans during the second quarter of a game between the Buffalo Bills and Indianapolis Colts on December 10, 2017 at New Era Field in Orchard Park, New York. (Photo by Tom Szczerbowski/Getty Images) /
There was a lake effect snow warning in Buffalo from Sunday morning until Monday morning. Also known as Buffalo, New York weather.
The weather Sunday looked like a scene straight out of HBO's Game of Thrones.
Jacoby Brissett threw the ball 13 times for seven receptions and 69 passing yards. It was nearly impossible to throw the ball in the first half with snow piling up and, and 17 mph winds. Both running backs racked up more than 130 yards on the ground and were the only spark on either offense until late in the game.
LeSean McCoy deserves the game ball Sunday with 156 rushing yards and a touchdown.
In a game like Sunday's, you can the gameplan you had been working on all week and go with the flow of the game. Inclement weather put a stranglehold on the forward pass, which may have contributed to some of Buffalo's ailments Sunday.
Nathan Peterman was forced to scramble out of the pocket in attempt to gain a first down, and received a bone-crushing hit that knocked him out of the game. Peterman went through concussion protocol, and obviously, his status will be in question for next week.
If you made it to the game Sunday, more power to you. The real problem was getting home. This from accuweather.com:
""Fans should prepare for difficult and dangerous travel conditions after the game as the lake-effect snow will persist. Motorists may encounter snow-covered roads and occasional whiteouts. This includes on Interstate 90.""
Next: Buffalo Bills: Top PFF grades from BUF vs IND
The Buffalo Bills got the win they needed to stay in the playoff race and had some fun in the process. This will be one to remember for a long time to come.