Buffalo Bills: Something feels different about new management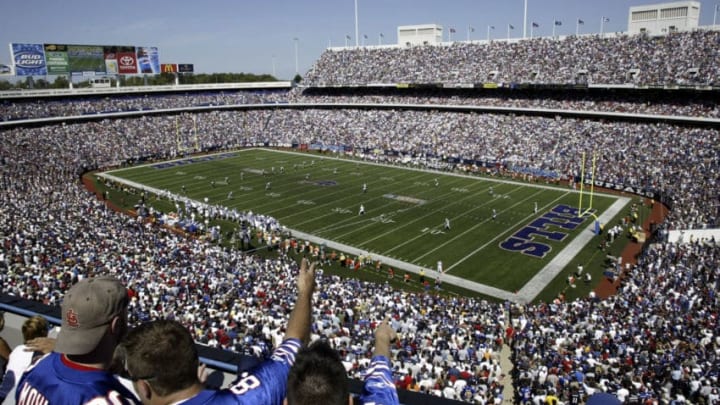 ORCHARD PARK, NY - SEPTEMBER 11: Fans watch the kickoff between the Houston Texans and the Buffalo Bills on September 11, 2005 at Ralph Wilson Stadium in Orchard Park, New York.(Photo by Rick Stewart/Getty Images) /
It seems like almost every 2-3 years, the Buffalo Bills start the season with a new coaching staff on the sidelines. Fans have gotten so tired of it that there was even a percentage of them that wanted the Bills to give Rex Ryan another year. It was hard to imagine starting over….again. I was not among that percentage.
Something tells me this time around could be different. I haven't felt this way in a long time either. I didn't buy in to the Rex Ryan show, and the list of coaches before him were even less impressive. You would have to go back to Wade Phillips to see the last time the Bills had decent coaching. You would have to go back to the same time frame to see the last time the Bills had a good General Manager.
Ever since then it seemed like the coaches and front office staff were just "winging it." I didn't see any real direction one way or the other, and so the Bills kept on hovering around .500.
That's probably worse than bottoming out because there have been several teams (Oakland, Tampa Bay, Atlanta, Detroit, just to name a few) to bottom out and are now on the rise. Since Wade Phillips and Jerry Butler's departure in 2000, the Bills have been poorly mismanaged both on the coaching side and upstairs.
Drafts have been mishandled, and free agent signings have been flashes in the pan at best. One thing people should consider is how involved Ralph Wilson may have been in the late stages of his tenure.
In my opinion that may have been a contributor to the cruise control approach, the franchise seemed to have taken on up until Mr. Wilson's passing. This is not a placement of blame or anything of the sort, it's more of an explanation, and in that situation, there isn't much blame that could be passed.
It explains some of the promoting within the organization (Russ Brandon, Doug Whaley). With Mr. Wilson unable to play a role in key decisions, it most likely had an impact on hiring and promotions. The key sign for me was when Mr. Wilson was no longer attending Bills games.
You can bet if he were able to, he would have been in attendance. That led me to believe the franchise was in cruise control mode, thus limiting the search for management and coaching.
More from BuffaLowDown
Since 2014, when the Pegulas took over the Bills, there have been some bumps in the road, but you can see they are making changes to better the franchise. They may make some mistakes along the way being new owners in the NFL, but they are determined to keep trying until they get it right. I Believe they may have gotten it right this time with the hiring of Brandon Beane and Sean McDermott.
Yes, they still have everything to prove as a first time GM and Coach, but certain things feel different to me. They portray themselves as if their first time as GM and Head Coach not too much for them to handle. They seem to have a plan in place and are moving forward with it. In the past decade or more under previous regimes, I haven't seen much of a plan being put in motion at One Bills drive.
I can't even begin to count the wasted draft picks and disappointing free agent signings over the years. I already see more potential out of the 2017 draft than the several drafts before that. For example, every player drafted in 2013 is no longer on the roster.
Tre'Davious White and Zay Jones are progressing nicely into their roles and could be two key pieces moving forward to the next phase of the franchise. The draft combined with the other off-season moves, the Bills are already shaping their future roster.
http://www.espn.com/nfl/team/transactions/_/name/buf/buffalo-bills
Brandon Beane has begun work on managing the salary cap, which may have been a key factor in trading Sammy Watkins, who would be looking for a big contract after this season. Straightening out the salary cap will come with some sacrifices, but the Bills received two starters along with a 2nd and 3rd round draft pick for those sacrifices. They will now enter the 2018 draft with six picks in the first three rounds.
There may be more sacrifices made going forward as well; there are several veterans on the roster who could be parting ways in the next few years. Some moves may not be popular among the fans, but we have to respect the process. A process that has never been truly put in place until now.
On the coaching side, McDermott and company seem to be doing more to prepare the team all around. More emphasis has been placed on crucial details, something that had been lost in the last two seasons. There has been more focus on team bonding, which the players say helps them get closer as a unit.
Related Story: Buffalo Bills: Dissecting the loss of Anquan Boldin
There is more emphasis on accountability and discipline. It just seems there is more being done to get the team ready for the season. Will there be some bumps in the road along the way? Yes, but that's to be expected. In my opinion, I don't think the new regime should be evaluated until at least after the third or fourth season.
They need to be given a fair chance; they did not come in offering false hope or promises. Changing the culture is something that doesn't happen overnight, especially after 17 years of a losing culture. That brings me to my next point; I still see Bills fans constantly saying that the Bills have been rebuilding for 17 years. That is false; there was never a true rebuild during the whole drought period. It was patchwork, temporary fixes and a lot of hope.
Bills fans need to let go of the 17-year stigma and look towards the future because realistically it could be another couple years before things turn around. Now there is no guarantee Beane, McDermott and company will have success their first time running the show, but they need to be given a fair chance to try.
Next: Which Buffalo Bills You Should & Shouldn't Draft In Fantasy This Year.
Are you confident in the Buffalo Bills' new management? Leave your thoughts in the comments below!