LeSean McCoy Thriving In Refined Buffalo Offense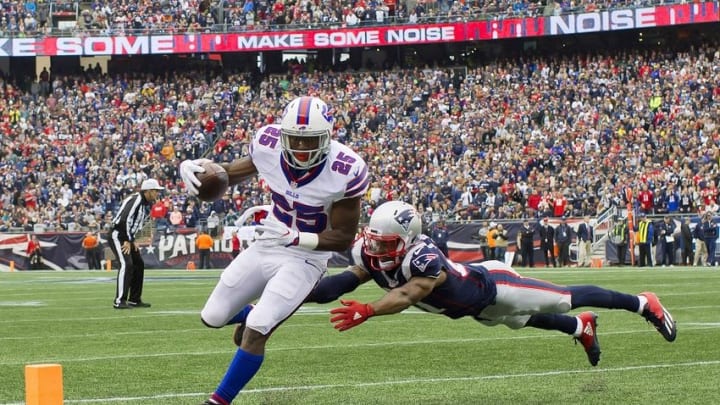 Oct 2, 2016; Foxborough, MA, USA; Buffalo Bills running back LeSean McCoy (25) gets past New England Patriots cornerback Malcolm Butler (21) for a touchdown during the first half at Gillette Stadium. Mandatory Credit: Winslow Townson-USA TODAY Sports /
Since the firing of offensive coordinator Greg Roman in Buffalo, LeSean McCoy has quietly had a reawakening with the revival of one the NFL's best rushing offenses.
58 and 59.
Those numbers may mean absolutely nothing to you.
They may mean nothing to many players on the Bills but those numbers were the spark. They were the spark that ignited the Buffalo rushing offense.
58 and 59. Those were the yards rushed by LeSean McCoy in the first two games of the season against the Baltimore Ravens and New York Jets, respectively. It doesn't take an analyst to see or comprehend the lack of production those numbers carry.
More from Buffalo Bills News
Those very same numbers were a key factor in firing the highest paid offensive coordinator in the NFL, Greg Roman. 
That firing freed LeSean McCoy from the over-analyzed, over-complicated chains of Greg Romans' offense that ended up putting talents in a box, only to bring them out on special occasions.
The national media seemed bewildered as to why a team would fire an offensive coordinator after scoring 31 points in a losing effort but the people of Buffalo knew better.
General Manager Doug Whaley didn't pull the trigger on the sudden trade made on a boat just to see the talent get stored away. He pulled the trigger to ignite the offense with what he saw as a running back who still had miles left on his tires and could lead a team so desperate for a winning season back to the playoffs and hopefully beyond.
A lot has changed since LeSean McCoy left the Philadelphia Eagles. He asked for more money in his contract, tried to host a party that made headlines and was seen fighting in a Philadelphia bar.
Since that bar fight, McCoy has shown leadership and athleticism many thought he had lost with age and a sense of selflessness.
This past week, LeSean McCoy made headlines in a different manner. McCoy plans to bring 15 to 20 local police officers to the Bills upcoming game versus the San Francisco 49ers.
National media attention will be on this game as Colin Kaepernick will be starting at quarterback for San Francisco. His name has made headlines throughout the season since he decided to protest injustice by taking a knee during the playing of the national anthem.
Related Story: San Francisco 49ers to Start Colin Kaepernick vs. Buffalo Bills
McCoy has another agenda for the game.
"Just an appreciation type of thing," McCoy said.
McCoy continued by saying "Cause they're taking so much heat right now. There's things that are happening that's definitely wrong but I just feel like there's bad people, there's bad cops and there's good cops."
This is coming from the running back who was accused of assaulting an off-duty Philadelphia police officer.
Now back to LeSean McCoy on the field for the Bills.
Since those first two games, McCoy has churned out 330 yards on the ground with a pair of touchdowns and is 4th in the league in rushing.
The difference between new offensive coordinator Anthony Lynn and previous coordinator Greg Roman is simplification.
Lynn said during his first press conference as the Bills offensive coordinator, "We've had a lot of great concepts in, but I think if you want better execution, you reduce the verbals. And so we cut back a little bit so the guys can go out and play fast and not think so much and make plays."
Clearly, what Lynn has done is helping the offense. Although Tyrod Taylor has not put up substantial passing numbers, the offense is scoring.
Many fans and writers ruled the Bills out after an 0-2 start, but don't tell the Bills players that. Buffalo has scored over 30 points in three out of their five games this season and have held the opposition under 20 points four of the five games.
To wrap things up, expect LeSean McCoy to put up big numbers again this week. Just take a look at what the last four running backs who have faced the 49ers defense did:
Fozzy Whittaker, RB, Carolina Panthers – 100 yards
Christine Michael, RB, Seattle Seahawks – 106 yards, 2 TDs
Ezekiel Elliot, RB, Dallas Cowboys – 138 yards, 1 TD
David Johnson, RB, Arizona Cardinals – 157 yards, 2 TDs
Feel free to comment with your thoughts or opinions below!