Why Can't The Bills Land A Home Monday Night Football Game?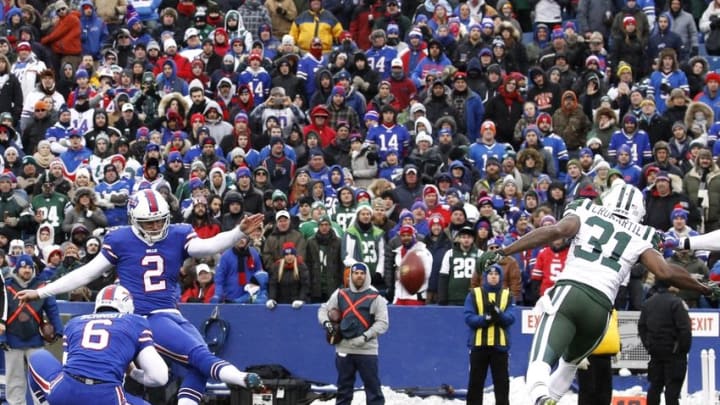 Jan 3, 2016; Orchard Park, NY, USA; Buffalo Bills kicker Dan Carpenter (2) kicks a field goal as punter Colton Schmidt (6) holds and New York Jets cornerback Antonio Cromartie (31) rushes during the first half at Ralph Wilson Stadium. Mandatory Credit: Kevin Hoffman-USA TODAY Sports /
It's been too long since the NFL gave the Buffalo Bills Monday Night Football game at home.
Eight seasons.
Eight seasons since Monday Night Football was held at Ralph Wilson Stadium. A lot can go by in eight seasons. For the Bills, they've had a new coach or two in that time. They've had rollercoaster seasons and dashed playoff hopes. They've had players come and go but one thing they haven't held in that stadium in eight seasons is Monday Night Football.
When the NFL announced the schedule earlier this spring, as most Bills fans do, we skim through it looking for the big games and the primetime game(s), especially the home primetime ones.
It's almost like Christmas when the dates are announced. As someone who no longer resides in Buffalo, I immediately get into a frenzy thinking of the games I'd like to go to, home and away, and start planning the perfect weekend.
I was pretty disappointed when I saw a measly Thursday Night Football matchup at home and that was all for Orchard Park. This too is like opening gifts Christmas morning but not receiving that one BIG gift you were hoping to open. As disappointed children on Christmas do, I looked for any mistakes that could have been made. Nope. all accounted for. All eight home games were correctly listed.
It didn't sting as much having a Week 2 Thursday Night Football game for the home-opener, but it still stung not having at least another opportunity for the Ralph to rock at night (other than preseason obviously).
Let's dive into the reasons why I believe Ralph Wilson Stadium so seldom hosts a MNF game.
The stadium.
Every year around the same time the talk begins.
Goodell wants the Bills to catch up.
A new or upgraded stadium will keep the Bills viable.
A downtown stadium is being looked into.
The talk of a new stadium swirls around One Bills Drive every single year. Even if we did purchase a new stadium, I'm convinced there would still be talk of the next one soon after. It's the gum that sticks to the Bills shoe and they just can't seem to shake it.
I've even fallen into the same trap by posting my own piece on whether or not the Bills need a new stadium.
I'm here to tell you that Ralph Wilson Stadium is no way the reason why Buffalo does not have a Monday Night Football game at home.
The Bills have even recently upgraded the stadium in numerous ways and it looks fantastic.
More from BuffaLowDown
The past.
The Bills have lost their last 9 out of 11 Monday Night Football games. Not a very persuasive statistic to make a case for a home MNF game.
The NFL is going to select the teams and match-ups that people will want to watch and are appealing to a general audience rather than taking a risk on a mediocre team.
The matchups.
Nov 9, 2015; San Diego, CA, USA; Suzy Kolber (left), Steve Young (second from left), Trent Dilfer (second from right) and Ray Lewis on the ESPN Monday Night Football Countdown set before the NFL game between the Chicago Bears and San Diego Chargers at Qualcomm Stadium. Mandatory Credit: Kirby Lee-USA TODAY Sports /
If you look at the 2016 MNF schedule, only four of the match-ups are divisional games. Outside of our divisional games, we play Arizona, San Francisco, Jacksonville, Cleveland, and Pittsburgh at home. One would argue that only two of those teams have a legitimate chance at making the playoffs (Arizona and Pittsburgh). This would essentially leave two possible options for the league to choose from when there are many great matchups each and every week.
The conclusion.
It wouldn't make sense for the NFL or ESPN to give the Bills a Monday Night Football game at Ralph Wilson Stadium when they have so much to prove still.
The Bills are coming off an 8-8 season with a lot of players still having to prove their legitimacy in the NFL. We have so many hot and cold players that there isn't a clear solidified star in Buffalo.
Most major cities have other teams and other seasons to fall back on after a poor outing by their NFL team but we don't. We have the Bills and the Sabres.
A primetime game is our shot to be on a national stage and be the "America's Team" that the United States needs in place of the Dallas Cowboys. We yearn to show America the blue-collar, hard-working region that either goes into depression or rides the happy high after any given Sunday. Let's hope that this season is the start of a happy high.
Why do you think the Bills haven't had a home Monday Night Game in eight years? Leave us your thoughts in the comments section below.