Buffalo Bills Have a Ready-Made Replacement for Leslie Frasier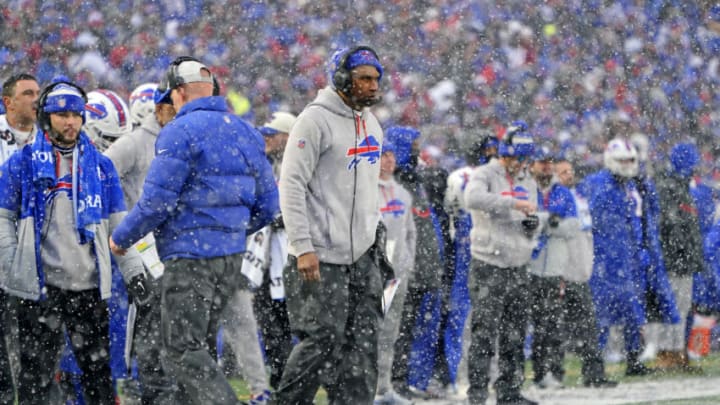 Leslie Frazier, Buffalo Bills (Mandatory Credit: Gregory Fisher-USA TODAY Sports) /
Bobby Babich, Buffalo Bills (Syndication: Democrat and Chronicle) /
The Buffalo Bills Have a Ready-Made Replacement
The timing of Frazier's departure puts the Bills in a very difficult spot. Much of their offseason planning is already well underway, and many teams' coaching staffs are set meaning that an external replacement would be combing through leftovers to bring in someone who is not familiar with the Bills scheme and players. This makes an internal replacement significantly more likely at this point in the year.
When asked at the NFL Combine about replacements, Bills GM Brandon Beane mentioned several names including Bobby Babich, Eric Washington, John Butler, Al Holcomb and even Sean McDermott. McDermott seemed to bristle at the idea of calling defensive plays himself which points to one of the other internal candidates getting at least an interim role as the defensive coordinator.
The most likely of those candidates seems to be Bobby Babich. Babich has been with the team in multiple roles, most recently as the linebackers coach in 2022 and before that as the safeties coach from 2017-2021.
This track record and the players that he has developed in those roles point to him being ready for a shot to lead a more aggressive defensive scheme for the Bills in 2023. Tremaine Edmunds is among the Bills most aggressive and disruptive players over the past three years, with Jordan Poyer and Micah Hyde being difference makers under Babich's leadership as well.
Babich's strengths, the aggressiveness of players he has developed and the need for these qualities overall to take the Bills' defense to the next level make him the most logical candidate to replace Frazier on short notice.