Buffalo Bills News: Josh Allen accuses Aaron Rodgers of cheating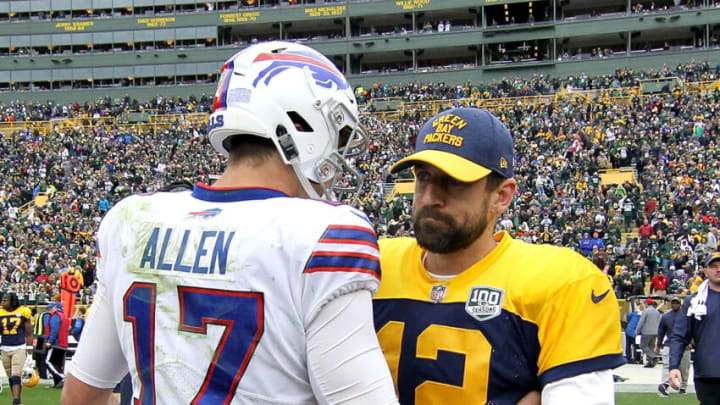 Buffalo Bills, Josh Allen (Photo by Dylan Buell/Getty Images) /
Buffalo Bills quarterback Josh Allen has had a rough few weeks, to say the least. A couple of months ago, his name started popping up in the mainstream sports media in regards to the Bills winning "in spite" of his play.
Allen led the NFL in turnovers in 2022, which is a big topic of conversation amongst Bills fans and even general manager Brandon Beane this early in the offseason. To top all of that off, the playoff loss to the Cincinnati Bengals didn't help.
And now, Allen has to endure yet another loss, and at the hands of (now) Green Bay Packers quarterback Aaron Rodgers (who may just find a new team in the coming weeks, but that's another story).
Allen competed against Rodgers in the annual Pebble Beach Pro-Am, along with his partner, Keith Mitchell. Rodgers and partner Ben Silverman ended up winning the whole thing, finishing 26 strokes under par.
And now, Allen is accusing the one-time Super Bowl champion and multi-NFC Championship-losing Rodgers of cheating. When asked whether Rodgers' victory deserves an asterisk, Allen had some choice words.
"One hundred percent," Allen said. "It's only three rounds and a 2.6 handicap got 10 shots? Come on now. I don't know. I'm not the person to ask that question. But it is what it is."
Buffalo Bills quarterback Josh Allen might have lost the golf match, but he won when it mattered against Aaron Rodgers
Rodgers can have his win on the golf course, and who knows, maybe this is just a bunch of friendly banter from the two quarterbacks. Or, maybe it's a little more.
What we do know is this: Allen and the Bills beat Rodgers and the Packers last year during the regular season by a score of 27-17, putting the Packers' season in serious doubt at the time.
Allen accounted for 267 total yards and two touchdowns in that game, while Rodgers finished with just 214 yards and a couple of scores. Buffalo's defensive line also sacked Rodgers a couple of times in that one.
Another fact that Allen and Bills fans can take solace in?
These franchises are headed opposite directions. We might not see another snap of Rodgers in green and gold. Meanwhile, Allen is set to stay in Buffalo for a long time, and hopefully bring a Super Bowl to the Bills in the near future.