Bills News: Game cancellation proves coaches care more than NFL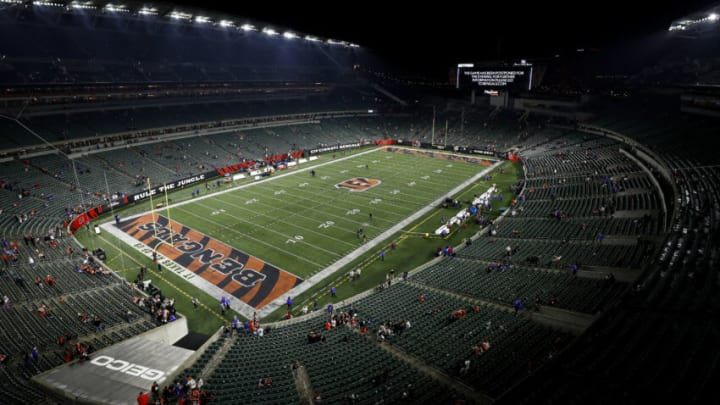 Buffalo Bills, Damar Hamlin (Photo by Kevin Sabitus/Getty Images) /
When Damar Hamlin fell to the ground during that unforgettable, tragic moment on Monday Night Football, it felt as though the world stopped. The Buffalo Bills and Cincinnati Bengals no longer mattered.
The life of one human being mattered.
Many reports have come out about the cancellation of this game, but early this week it was noted that the decision to call off the game was indeed not by the NFL. It was decided by Bills head coach Sean McDermott and Bengals head coach Zac Taylor.
A telling report from ESPN's Don Van Natta Jr. went into further detail about how this decision came "from the ground up."
Van Natta wrote:
""The league did not cancel the game," the team official said. "The Bills and the Bengals canceled the game.""
This new report suggests that Buffalo Bills head coach Sean McDermott, along with Zac Taylor, care far more than the NFL.
For those of us watching the game live, as it happened, many knew what they were seeing when Taylor b-lined across the field toward McDermott.
You just knew what Taylor was going to say. You could sense it.
There was absolutely no shot at either of these teams playing another snap that night, and both coaches knew it. They understood the gravity of the moment, when the NFL maybe did not.
It should come as no surprise that it took a ground-up type of decision for the league to cancel this game. The NFL is a business, after all. No matter what happens, this league is a business and its goal is to make as much money as possible.
Beyond the well-being of the players, the outpouring of dollars from each and every fan, the work put in by team officials, janitors and every other employee involved in this "show business," the league cares about the almighty dollar — that's it.
We can watch all of the commercials about player safety, social justice and the great causes the NFL gets behind. But at the end of the day, it's about one thing and one thing only.
How can this make the NFL more money?
That's it. It's pretty simple, and it's quite frankly disgusting.
On behalf of Bills fans, it's easy to say that everyone was thankful for the decision McDermott and Taylor made together. It was the right call, and it was appreciated. The health of Damar Hamlin far surpassed any event on the field and any amount of money the league was to make that night.