Buffalo Bills 2021 Schedule: Bye week is even more important this season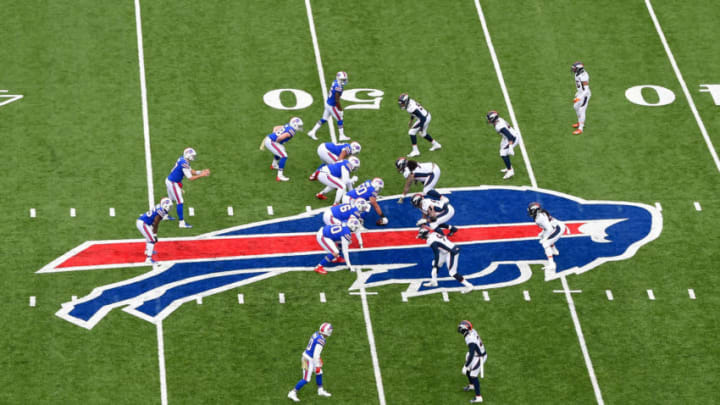 Nov 24, 2019; Orchard Park, NY, USA; Buffalo Bills quarterback Josh Allen (17) waits for the snap against the Denver Broncos during the first quarter at New Era Field. Mandatory Credit: Rich Barnes-USA TODAY Sports /
The 2021 NFL schedule is set to be released on Wednesday and there will be plenty of storylines for the Buffalo Bills. When reviewing the schedule many will look to see how many primetime games the Bills have to when they play the Super Bowl champion Tampa Bay Bucs as well as when the AFC Championship rematch will take place against the Kansas City Chiefs.
However, one important storyline for the Buffalo Bills, and really the entire NFL, is when their bye week will take place this year. The importance of the bye week grows this year as the regular season expands by one game to 17 over an 18 week period.
The bye weeks in a normal 16 game season are scheduled usually between Week 4 and Week 12 but this year with the regular season being an extra week those could shift to Week 5 through Week 13.
For the Buffalo Bills, a team who is expecting to go deep into the playoffs, an early bye week could have a major impact on their season. In theory, if the Bills have their bye week in Week 5 they could play up to 17 straight games if they were to reach the Super Bowl.
The only chance to break that stretch up would be if the Buffalo Bills were to earn the top seed in the AFC and get a bye week in the Wild Card round of the playoffs.
Over the past four years, the Bills have alternated their bye week between Week 6, in 2017 and 2019, and Week 11, in 2018 and 2020. If this trend were to continue, the Bills would likely have an early bye week. If this does happen, this certainly will not work in their favor.
While one extra game doesn't seem like it is a big difference, it does make the bye week even more important as teams will need that extra rest down the stretch. It could give some teams an advantage, especially in the playoffs.