Buffalo Bills Schedule: Four primetime games headlines the 2020 schedule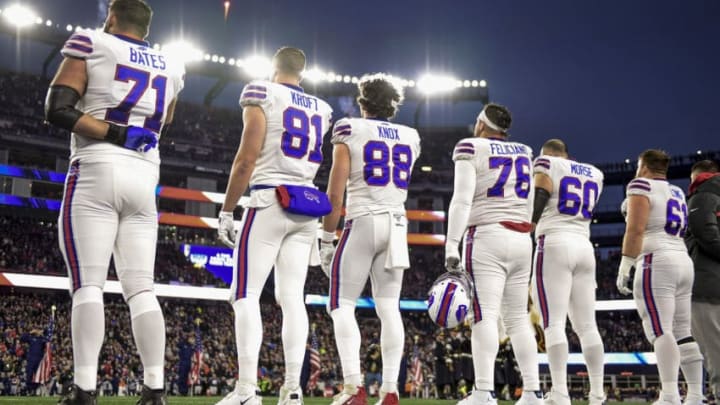 FOXBOROUGH, MA - DECEMBER 21: Members of the Buffalo Bills look on before a game against the New England Patriots Gillette Stadium on December 21, 2019 in Foxborough, Massachusetts. (Photo by Billie Weiss/Getty Images) /
The 2020 schedule is officially out for the Buffalo Bills, including four primetime games.
As the NFL released the official Bills schedule for 2020 complete with times, dates and opponents, we now have a better understanding of when and who the Buffalo Bills will face.
Headlined by four primetime games, with their first coming in Week 6 for Thursday Night Football, at home against the defending Super Bowl Champion, Kansas City Chiefs. The next primetime
More from BuffaLowDown
games will be on back-to-back weeks, first visiting the San Fransisco 49ers in a Week 13 Monday Night matchup and then hosting the Pittsburgh Steelers in Week 14 on Sunday Night Football. Their final primetime game commences on their last road game of the regular season against division rival, the New England Patriots.
Speaking of divisional games, Buffalo kicks off their season with a home matchup against the New York Jets and head down to Miami to face the Dolphins the very next week. Five weeks later, the Buffalo Bills again have back-to-back divisional games against the Jets on the road and welcome the Tom Brady-less Patriots to New Era Field the next week.
Their final divisional matchups again come in back-to-back fashion as they play the Patriots in Week 16 and the Dolphins in Week 17. With Buffalo playing four divisional games in a matter of eight weeks, they will no doubt have to start the season 2-0 if they wish to make the dream of an ACF East title a reality.
Two other major dates to know for the Bills this season is their bye week and their Week 15 matchup against the Denver Broncos. Buffalo's bye week comes in Week 11 after an away game against the Arizona Cardinals. Their Week 15 matchup against the Denver Broncos is currently slotted to be either played on December 19th or the 20th, depending on whichever the NFL opts for.
When it comes to the strength of schedule, Buffalo certainly has some tougher games in their matchups with the Chiefs, Seahawks and 49ers, and there are no games on their schedule that can be seen as an automatic loss. The team was extremely competitive last season and with the pieces, they have added in the offseason, it is safe to say that the deck is stacked in their favor to take a real run as a top contender in the AFC this year.