Buffalo Bills: 3 possible matchups that could be on primetime in 2020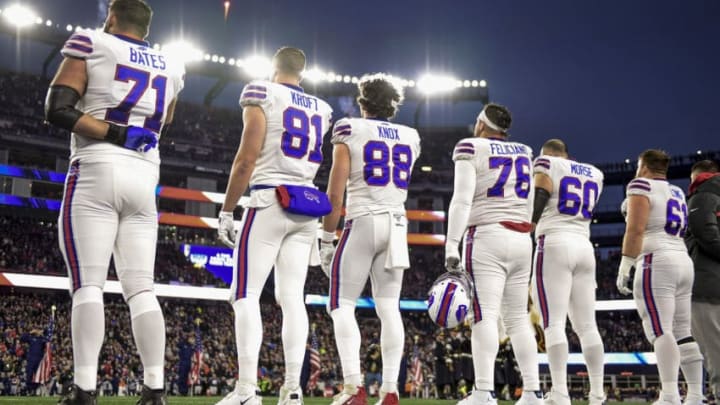 FOXBOROUGH, MA - DECEMBER 21: Members of the Buffalo Bills look on before a game against the New England Patriots Gillette Stadium on December 21, 2019 in Foxborough, Massachusetts. (Photo by Billie Weiss/Getty Images) /
Buffalo Bills (Photo by Billie Weiss/Getty Images) /
The Buffalo Bills are coming off a playoff season and looks to be a franchise on the rise. These are three matchups the NFL may want to showcase on primetime in 2020.
The NFL plans to release its 2020 schedule on Thursday night. Not to get Buffalo Bills fans hopes up, but multiple prime time games for the Bills looks like a real possibility. For any NFL team, having a primetime game scheduled is a sign of respect saying that, as a franchise, you made it and here is your reward.
Historically, the Bills have not received primetime games on a regular basis because they were deemed irrelevant. Their last Monday Night Football game came against the New England Patriots at New Era Field back in 2018 with Tom Brady and company winning easily 25-6.
Last year the Bills did not have a scheduled primetime game on Saturday, Sunday or Monday when the schedule was released but ended up with three national televised games. Their Week 15 game against the Pittsburgh Steelers got flexed to a Sunday Night spot giving them a nationally televised game and ended up clinching a playoff berth with a 17-10 victory at Heinz Field. They also had a late afternoon matchup on Saturday with the Patriots in Week 16.
The impressive showing on Thanksgiving Day against the Dallas Cowboys showed the world that they have earned he right to play under the prime time lights. Although that game, and the Patriots game, was on a national stage, it didn't could as primetime.
For years, the Buffalo Bills have been considered a franchise that could not be taken seriously since the days of Jim Kelly, Bruce Smith, Andre Reed and Thurman Thomas. There has not been a consistent quarterback or head coach to run the ship in Orchard Park. But when Brandon Beane and Sean McDermott arrived, all that changed.
McDermott has brought the Bills to the playoffs in two of those years and instilling a work ethic that the players have bought into. There are not enough words to describe what Brandon Beane has done for the team since arriving in 2017 and has been a critical part in guiding a ship heading nowhere. He had a vision for this team, drafting good players like Josh Allen, Tremaine Edmunds and Devin Singletary. Also signing free agents like John Brown and Cole Beasley, then trading for Stefon Diggs. All those guys are difference makers and make for an all pro roster.
The Bills are a team on the rise and have a legitimate shot at securing a couple of prime time match ups. Looking at the opponents coming up for Buffalo, you can almost put every game in prime time but, for now, here are three games that would be fun to watch.