Buffalo Bills: The case for drafting Ed Oliver at No. 9 overall
The Buffalo Bills have a chance to add a dynamic talent along the defensive line with the No. 9 overall pick in the 2019 NFL Draft.
With the retirement of long-time dominant defensive tackle Kyle Williams, the Buffalo Bills should not look past Houston NT/DT Ed Oliver in this week's draft.
With the No. 9 overall pick in the 2019 NFL Draft, Buffalo will have the chance (if he is available) to select possibly the best defensive player of the 2019 class. Standing at a rock-solid 287 pounds on a 6-foot-2 frame, if selected, Oliver brings with himself significantly attractive traits we have seen in prior Bills linemen.
When watching film of Oliver's time at Houston, his play is reminiscent of two former Buffalo Bills in Marcel Dareus and Mario Williams.
Oliver, who played a significant amount of time at the nose tackle position at Houston, shows flashes of the former defensive tackle, Marcel Dareus. Much like Dareus, Oliver comes off the line with an incredible amount of velocity and a repertoire of finesse moves to help him get behind the offensive line. One of those said traits being his go-to swim move.
Replicating the dodge that has made Texans lineman JJ Watt famous, Oliver's ability to use his height to advantage and "swim" overtop the guard staring him down has paid extreme dividends.
Recording 54 tackles in his 2018 campaign which brings his career-total at Houston to 123, Oliver's ability to clog up the middle and create havoc in the backfield is reminiscent of a player who shared those traits before him.
In a Pro Football Focus profile video on Oliver, the duo describes Oliver's best attribute is: "Athleticism that you can't teach. Elite level. Almost Aaron Donald level".
There have been many links between Oliver and Donald based on the ability both have to shoot through gaps and makes plays.
The other previously mentioned player that Oliver mimics is that of former Bills defensive end, Mario Williams.
Williams came off the ball with an incomprehensible amount of speed during his time in Buffalo. This allowed him to terrorize quarterbacks during his time in Buffalo. Averaging north of 10+ sacks per season, Williams knew how to get in the backfield, and that is exactly what Oliver knows too.
Perhaps the reason why Oliver stands out as the best option for Buffalo is his ability to "pop" the offensive lineman.
Mimicking the first motion we saw from Dareus combined with the speed of Williams, Oliver's natural instinct off the line is to get his hands up. Though this may not seem like a big deal, this shows that Oliver's priority is to engage with his opponent.
Choosing to engage in contact as opposed to trying to spin off the block has allowed him to keep his head up to look for a ball to knock down or even better, a running back to stuff.
This is best shown in his NFL.com draft profile. 
In the provided video against Texas Tech, Oliver's "pop" is seen in full effect and shows just how effective he is in stopping the run game.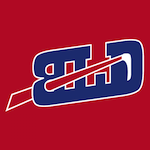 Selecting Oliver with the No. 9 pick is quite possibly the move the Bills need to make. Oliver has the skillset and the football IQ to be able to be an instant starter in the NFL. With the right playcalling from Brian Daboll, the days of the Bills "Cold Front" of M. Williams, K. Williams, Dareus and Hughes may see a resurgence in 2019.