Buffalo Bills: Best and worst seasons in franchise history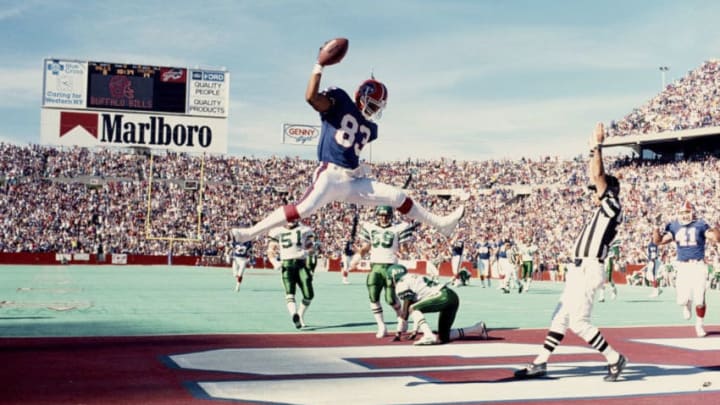 (Photo by Rick Stewart/Allsport/Getty Images) /
The Buffalo Bills have seen both success and failure as a franchise since 1960. A recent ESPN.com piece looked at the highs and lows of the franchise.
Diehard Buffalo Bills fans are waiting to get back to the glory days of the early 1990s.
The team has had some success since then, but nowhere near that level. The good news is that the team hasn't totally bottomed out and become unwatchable, unlike some other franchises out there.
A recent ESPN.com article by Bill Barnwell went through each NFL team to find both the best and the worst seasons in franchise history. He measured this by looking at point differential.
He chose 1990 as the best season in franchise history, and it is hard to argue with that. The run of AFC dominance began and the team finished the regular season with a record of 13-3.
As for the worst season, the 1971 squad that went 1-13 holds that crown. That one-win season is the lowest win total of any season in franchise history, but the team did have more losses in both 1984 and 1985 when fans watched back-to-back 2-14 seasons.
But enough with the bad news. That 1990 squad brought football magic back to Buffalo as the team went to its first of four Super Bowls. The 1991 Bills also finished the regular season with a 13-3 record. Current Bills fans haven't even seen double-digit wins since 1999. Unfortunately, there have been eight double-digit loss seasons since 1999.
The Bills are an interesting franchise to study. The team won two AFL Championships within a few years of being a franchise, only to go about another 25 years before reaching another level of dominance. Then after the run of four Super Bowls, the team had off-and-on success before hitting a drought after 1999.
It appears the team is headed in the right direction, and Bills fans are hoping the 2017 playoff appearance isn't another rare occurrence, but rather that it is the new normal.