Buffalo Bills: Moving out of the basement in the power rankings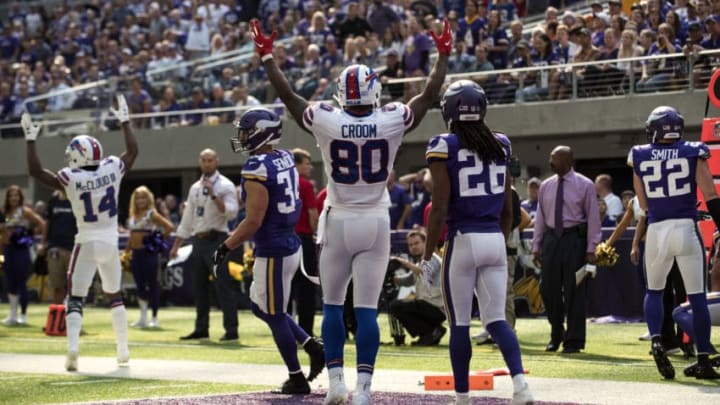 (Photo by Stephen Maturen/Getty Images) /
The Buffalo Bills shocked the NFL world in Week 3 and proved that they don't belong in the basement when it comes to power rankings.
The Buffalo Bills entered Week 3 dead last in nearly every set of national power rankings out there. And that was fair given the way they played to open the season with a record of 0-2.
But oh how things change in a span of just a few hours.
The Bills went to Minnesota and blew out the Vikings in a game that may have some fans up north wondering if Kirk Cousins is worth all that money. Short answer, he's not.
The big win not only got the Bills into the win column, but also saw them rise up in the power rankings.
The Bills are up to No. 30 overall in ESPN's NFL power rankings, which is only a modest gain of two spots. The team at NFL.com was a bit more favorable to the Bills, having the team rise up to No. 27 overall.
The Arizona Cardinals currently sit in the basement of both rankings. No surprise there.
A win this Sunday would shoot the Bills up the rankings and would also put them in the hunt in the AFC East. As of right now the Miami Dolphins are first with a record of 3-0, while the Bills are tied with the New York Jets and New England Patriots as all three teams own 1-2 records.
This won't be an easy task as the team heads to Green Bay and is once again a double-digit underdog. A road game against an NFC North team as huge underdogs? Sounds familiar.
It is hard to doubt this Bills team anymore after last Sunday. This doesn't mean they are going to go undefeated the rest of the way, but clearly they are much better than anyone thought. The first two games now seem like an outlier. Or the Vikings are secretly terrible.
Either way, Bills fans are once again excited about this team. That is great news after the brutal 0-2 start.