Buffalo Bills: Three up and three down after Week 3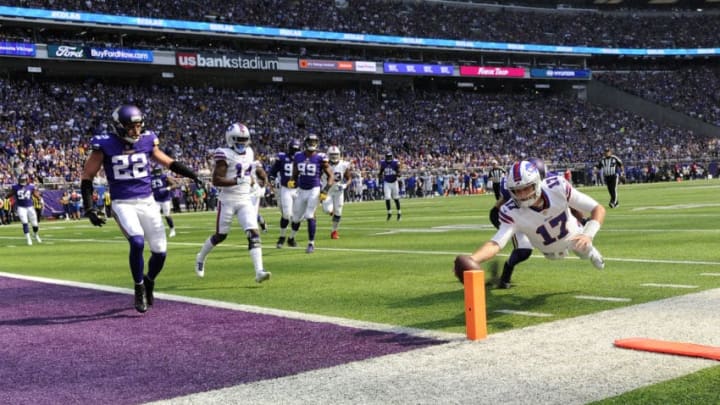 (Photo by Hannah Foslien/Getty Images) /
The Buffalo Bills shocked the NFL world on Sunday when they demolished the Minnesota Vikings at U.S. Bank Stadium in Minnesota.
The Minnesota Vikings entered the contest favored by a staggering 17 points and nobody other than the most die-hard Buffalo Bills fans was giving them much of a chance to pull off the upset.
But, that is why they play the games and the Bills walked out of U.S. Bank Stadium with their heads held high after winning their first game of the 2018 season.
The previous two games of the 2018 season made writing this article a little difficult. It was not always easy to find three "ups" for the Bills. This week it is difficult for another reason: There was not much the Bills did wrong Sunday. They played an outstanding football game from start to finish.
But yes, despite the smashing of the Vikings there were a few things the Bills will need to improve on if they want to build on Sunday and make the 2018 season a good one. With that being said, there was A LOT to like yesterday and limiting it to only three was an extremely difficult task.
Let's start with the three "ups."
3 Ups
What a coming out party for the rookie quarterback yesterday was. Allen was absolutely amazing in what was only his second career start and his first career road start. Allen took the ball on the Bills opening drive and drove the team right down the field for a touchdown. He and the Bills never looked back.
Allen did it all on Sunday including literally hurdling Vikings LB Anthony Barr for a jaw dropping first down. Allen's day could have been even bigger if not for several drops by Kelvin Benjamin, a drop by Charles Clay and a drop by Robert Foster. Allen only threw four passes in the second half as the Bills were content to run the ball and run the clock down rather than risk injury to Allen by attempting to have him do too much.
Allen put the entire NFL on notice and all of his detractors going back to the pre-draft process are currently scurrying to burn and delete all of the horrendous takes they made about him. Just two starts into his career Allen is making Bills fans very happy and giddy.
Bills defense
I could easily single out a few specific players from the Bills defense but I am not going to do that. Instead I am going to give credit to the entire unit as a whole because they were absolutely dominant on Sunday.
The Vikings could not do anything on Sunday through the first three quarters and only moved the ball at all in the fourth quarter because the Bills were content with letting the Vikings dink and dunk down the field and kill the clock and end the game instead of continuing to destroy them and risk injury to anyone in the process.
The Bills pass rush was relentless on Sunday and Vikings quarterback Kirk Cousins is still probably hearing footsteps today. If you are still wondering why the Bills gave Star Lotulelei big money, you need to go back and re-watch yesterday's game. Lotulelei was dominant in the middle and due to his push back in the middle of the field Cousins could not step up in the pocket allowing the Bills defensive ends to crash around the end and pressure the quarterbacks.
The Bills secondary was dominant. They limited Cousins to under 100 yards passing through the first three quarters. And the Bills tackling was extraordinary. When a Viking was able to catch a pass or was given a handoff they instantly wrapped up and tackled on the spot with no yards after the catch.
It was a dominant performance on Sunday from the Bills defense who have played lights out for the last 6 quarters now. If they continue to play this way the Bills are going to win a lot of games this year. That was special.
Ivory hadn't seen much action in 2018 but due to LeSean McCoy missing the game with a rib injury, Ivory got the start. Ivory made the start count as he accounted for 126 total yards (56 rushing, 70 receiving).
He also contributed solid blocking for Josh Allen in the passing game and seemed up to the task of starting, making anyone who questioned the signing of him for $5 million in the offseason look foolish. While Ivory only managed 2.8 yards per carry, he allowed the Bills to run the clock down in the second half and not risk anyone to injury. Ivory was also able to run effectively enough to open up the play-action pass which was very effective on Sunday for the Bills.
The touchdown pass to Jason Croom in the first quarter worked because Croom was able to get wide open due to this threat. In the pass-catching game Ivory had a long of 55 yards catching a beautiful pass from Josh Allen and taking it nearly all the way for a touchdown. On that play Ivory was extremely patient and continued to work his way back toward Allen as the rookie rolled out.
The end result was a beautiful catch and run by Ivory. While the Bills are obviously better with McCoy, Ivory showed on Sunday that they can be just fine without McCoy when he does fill in. Great game from Ivory.
3 Downs
Kelvin Benjamin
There is no other way to say it: Kelvin Benjamin has been absolutely putrid thus far in the 2018 season. For a guy who is in a contract season, Benjamin has not done very much to convince the Bills or any other team that they should sign him this offseason.
More from BuffaLowDown
Once again this week Benjamin displayed hands of stone and dropped several passes that just about any other supposed "number 1 WR" could and should make in their sleep. Luckily for the Bills, it did not matter on Sunday but it very well could have.
For the game Benjamin finished with three catches for 29 yards, but he also dropped his second touchdown of the year on a pass he should have caught in the first quarter.
Benjamin also dropped a pass on the Bills opening drive that could have killed the drive before it started but thankfully it did not.
The Bills need Benjamin to start to produce like they guy he bills himself to be and the guy they gameplan him to be. His attitude hasn't been much better this season and he should probably start looking in a mirror because if he doesn't he might not have to wait until free agency to start to find a new home.
Bills GM Brandon Beane has shown he doesn't tolerate that type of behavior and he is also not afraid of making trades. If Benjamin doesn't shape up soon he might be out the door sooner rather than later.
Charles Clay
Clay is another Bill who is off to a putrid start this season. Clay, along with Benjamin, should be the two Bills that Josh Allen should be able to count the most on in the passing game, but instead they have proven to be two of the least trustworthy players in that regard. On Sunday, Clay had another drop, this time for what would have been a touchdown.
Clay is another player who may find himself playing his final season in a Bills uniform as the Bills will be able to get out of his albatross of a contract in the offseason. Clay should also be worried about his playing time because when other players like Jason Croom are outperforming you, you may start to lose playing time to them if you continue to drop passes.
Clay needs to visit the same mirror as Benjamin does and get his act together because the Bills need him on offense. He is a very good player when he is on his A-game and he needs to get back to it and ASAP because Allen will only be able to be as good as his supporting cast lets him be.
Illegal formation penalties
Last week it was holding penalties that were the Bill biggest problem as they wiped out several big plays on offense. This week they were illegal formation penalties. Luckily the Bills were up 27-0 at the time so they did not have much of an effect on the game.
However, this is an area that you just know the Bills coaching staff will be looking to clear up immediately. These formations can likely be explained by the young players the Bills have on the offensive side of the ball coupled with OC Brian Daboll's vast playbook and formation switches.
However, they need to get this straightened out before they get one in a big spot in a close game. The Bills cleaned up the holding penalties this week, let's hope they get these cleaned up going forward as well.
Sunday was an awesome day to be a Bills fan. Nobody was giving them a chance and they went out and dominated one of the best teams in the NFL. Their rookie quarterback was the star of Sunday, and the Bills seemingly had fresh air put back in their sails and it suddenly feels like a brand new season.