The Ballad of LeSean McCoy – A Season to Remember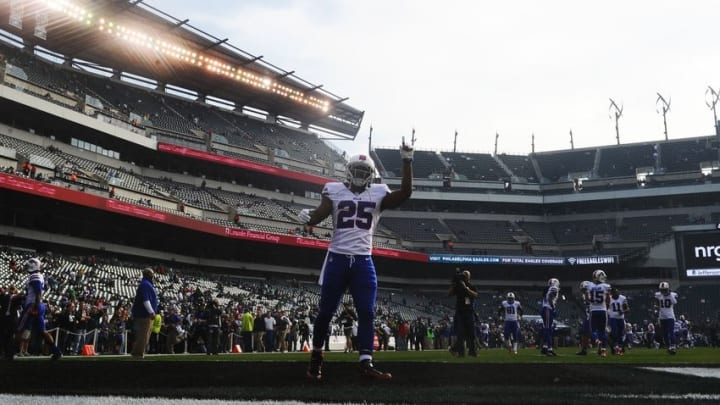 Dec 13, 2015; Philadelphia, PA, USA; Buffalo Bills running back LeSean McCoy reacts to the fans during pregame warmups before the start of the game against the Philadelphia Eagles at Lincoln Financial Field. Mandatory Credit: James Lang-USA TODAY Sports /
LeSean McCoy has had a season to remember. To thank him for an exciting season with the Buffalo Bills, I wrote a ballad for Shady.
A lot happened last season for the Buffalo Bills and a rollercoaster of emotions has been the result. With questions surrounding Tyrod Taylor's futures with the team, there's one player that the Bills know they can't do without — LeSean McCoy.
LeSean McCoy has had a storied career so far, but this has been one of his best seasons in the NFL. His 1,267 rushing yards is his fourth-most in his career.
For comparison, the other three times he has rushed for more yards in a season, he had 273, 314 and 312 carries. This season, he has only taken 205. Plus, his touchdown total of 13 is the second best of his career, behind his 17 touchdowns in 2011.
Enough numbers talk, though, we have a ballad to read:
A year ago, an injured hamstring,
Caused many to doubt future production.
Be here we are, with two games left,
And doubt isn't up for discussion.
He started the year with a touchdown run,
On a stingy defense in Baltimore.
58 yards on 16 carries,
The Bills might've won if he touched it more.
Their first game at home vs. the rival New York Jets,
Was another tough loss for the team.
He totaled 90 yards from the line of scrimmage,
But a touchdown was more of a need.
Then Week 3 showed up at our door,
McCoy with something to prove.
110 yards, two touchdowns off just 17 carries?
This is when McCoy found his groove.
A historic day at Gillette Field,
Stopped the Patriots dead in their tracks.
108 total yards and a reception touchdown,
Helped the Bills win two games back-to-back.
On to LA, McCoy ready to play,
A 150-yard day was waiting.
An average of 8.3 yards on 18 carries,
Left the Rams' defense completely frustrated.
A home game vs. the 49ers in Week 6,
McCoy had his best day as a Bill.
140 yards rushing, 3 touchdowns,
The cut-on-a-dime was real.
A loss vs. the Dolphins would follow,
And an even sadder day for LeSean.
An injured hamstring would limit McCoy,
And put a halt to the show he's put on.
He would return for Monday Night Football,
As Seattle stood in the way.
85 on the ground, 35 through the air,
But a touchdown never came.
Related Story: 5 Retired Buffalo Bills' Players That Could Help Right Now
Before we knew it, the bye week was here.
Buffalo still distraught over iffy refs.
At 5-5, the Bills needed a big second half,
Would they be ready for the test?
A 7-yard touchdown run in the first quarter,
Helped the Bills to a Week 11 victory.
A dislocated thumb came in the second,
But wasn't ruled as a serious injury.
He returned the next week better than ever,
Notching his fourth 100-yard rushing day.
Adding two touchdowns and 31 yards through the air,
A two-game win streak was underway.
A loss to the Raiders was heartbreaking,
As our playoff chances took a hit.
But 130 yards on the ground and 31 receiving,
Showed that McCoy wasn't ready to quit.
Pittsburgh handed us more disappointment,
Despite McCoy having a big day in the snow.
His 81 yards receiving was his highest as a Bill,
And a rushing touchdown would add to the show.
With the playoffs nearing and the Bills' chances slipping,
The Cleveland Browns came into town.
His two touchdowns would lead Buffalo to a W,
Adding 153 yards on the ground.
A strong performance followed,
On a cold, Christmas Eve day.
128 rushing yards and a touchdown vs. the fins,
Gave us more of the same.
With the playoffs out of sight,
And a winning record at stake. 
McCoy found himself injured,
In the final game of this year's tape. 
He's one of the best in the league,
There's no reason to debate it.
After a season like this, all you can do,
Is applaud the O-Line for the holes they created.
Pro Bowl honors for the second straight year,
Who else would you want on your team?
LeSean McCoy, Gillislee and Taylor,
Gave us the NFL's best rushing regime.
I can't wait to see LeSean McCoy next season. I Bill-ieve he will have an even better season with this team and put us in an even better position to make the playoffs.
Go Buffalo Bills!
Next: Buffalo Bills' 2017 Cap Space, Free Agent Talk
What was your favorite LeSean McCoy moment this season? Leave your comments below!