Buffalo Bills Media Policy: What A Joke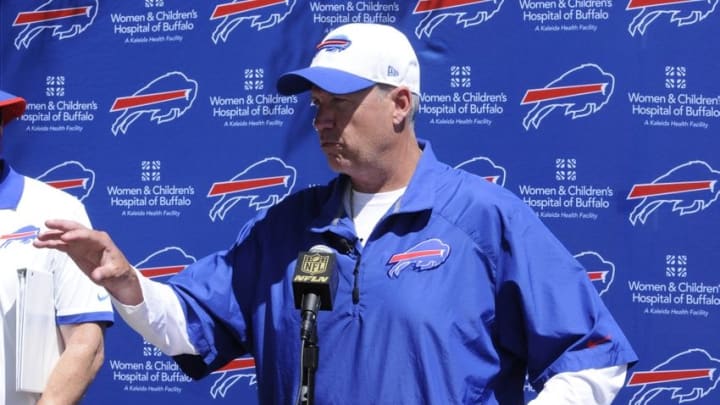 Jul 31, 2015; Pittsford, NY, USA; Buffalo Bills head coach Rex Ryan speaks to the media after a practice session during training camp at St. John Fisher College. Mandatory Credit: Mark Konezny-USA TODAY Sports /
Buffalo Bills Media Policy: What A Joke
According to Tyler Dunne of The Buffalo News, the Buffalo Bills announced a new media policy for 2016 and after looking at some of the details it's a complete joke. The restrictions they have implemented on the media are beyond drastic. They border on paranoid.
Maybe this is because they are scared about embarrassing reports like when Joe Buscaglia from WKBW.com reported last year about E.J. Manuel hitting a cameraman on a pass during training camp.
Maybe the coaches and the general manager feel the pressure of the team not making the playoffs the past 16 years and have overreacted to negative remarks. After all, more than just Mario Williams offered negative comments to the media at some point last season including Sammy Watkins and Preston Brown.
Who knows what the reason is. It could be completely innocent too. NFL teams are beyond paranoid about giving out secrets but this policy still seems a bit overboard. Here are some of the most ridiculous rules put on the media.
Cannot report on who is first string or second string
Cannot report who is rushing the passer
Cannot report who dropped a pass
Cannot report about interceptions
Cannot report completion percentage
Cannot reference trick plays or unusual formations
Cannot stream any portion of practice on periscope or any other platform
Cannot report on any injury that occurs in a practice closed to the public with detailed speculation to the nature of the injury.
More from BuffaLowDown
So basically the reports on the Bills training camp should go like this: "The Buffalo Bills had a practice today. Some players were first string but others were second string. It was not clear who was who. It is also unclear whether there were any passes dropped, any interceptions, if any unusual formations were used or if anyone suffered any injuries. Stay tuned for more breaking news on the Buffalo Bills training camp."
Because the rules implemented by the team were so ridiculous we thought maybe we would come up with four of our own that are just as ridiculous.
If a member of the media is eating, they are required to give Rob Ryan at least a taste of their food.
For every negative comment a media member wants to make about the team, they must write at least three negative comments about themselves in the same article.
All questions for team management must be submitted 48 hours ahead of time. Any questions that are unfavorable towards management are subject to same repercussions of a citizen of North Korea criticizing the government there.
You are only permitted to cover the team if you have a Buffalo Bills tattoo
The Buffalo Bills want to censor the media coverage of their training camp in a way that is only familiar to the citizens of countries whose leaders are dictators. Should Bills fans be concerned about the paranoia of the leadership of the organization?
Next: Bills Overhaul Medical Staff After Lawson Gaffe
At this point no. But they should keep their eyes open. This policy is beyond drastic but it seems more like an attempt to seem as secretive and genius as their rival the New England Patriots (vomit) than a true attempt to squash an honest conversation about the flaws of the team. No matter what the reasons are, once the season starts if they don't perform they aren't going to be able to control the media coverage then.