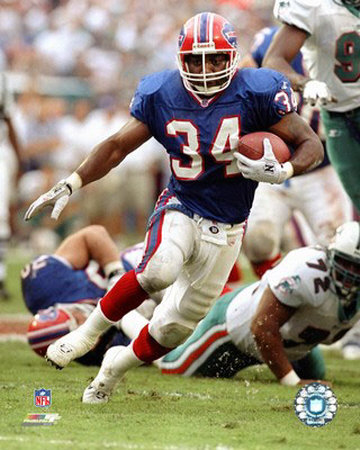 The RB position is critical to every offense in the NFL. Especially because we see about 3 in every game for each team. Gone are the days where Squirmin' Thurman would play from the first snap to the V-Formation. We've seen the advent of Wildcat offenses, running by committee, 3rd down backs, throwing out of the backfield, Goal Line specialists? The prototype? There is no prototype any more! Speedsters like Dexter McCluster can double as WR, splitting out wide to gash you wide open and mess your defense way up. Giant bruisers like Brandon Jacobs can run between the tackles and simply blast their way through arm tackles, picking up 4-6 yards almost every time. Gone are the days of true glory and number one guys with backups making very rare appearances. Today, the offensive scheme and stylistic transitions impact the game more so than the skill players at the running position. And yet, you need good productivity out of your running game in order to succeed. The kiss of death for a team is an inability to run the football in the NFL. Who in the AFC East is about to get a whole lot better? Who is about to fall off the deep end into RB mediocrity?
AFC East #1 RB group: NY Jets
The Jets come in at #1 because of their incredible combinations of youth and experience, depth and talent, productivity and skill. With arguably the best RB of the 2000's leading the charge, a young group of promising change of pace guys, and a head coach who is committed to a balanced offense, the Jets are poised to have the best corps of RBs in the whole AFC conference.
LaDainian Tomlinson: 5'10, 215 lbs. Aging? Yes. Little slower? Yes. Still the ankle breaking, linebacker-punishing, fight-for-every-yard RB he has always been. Definitely. He has recently said that he is ready to be the third-down back for the Jets, but he doesn't coach the Jets. With 1282 all-purpose yards, I believe that LT is still the top guy for the Jets and will quietly lead them to another championship game this season. He has every "NFL expert" motivating him to succeed by declaring that a 32 year old RB just can't make it in this NFL. This guy wants to win a Super Bowl bad; and he might just get his chance in New York.
Shonn Greene: 5'11, 226 lbs. With 886 yards last year, Greene is finally producing, but still not living up to the expectations that built up after the 2009 draft. Greene was supposed to be the next big thing, who would take over for Thomas Jones and lead that rushing attack to new heights. With only 2 total touchdowns, Greene just does not have the toughness, or lateral ability to be a legitimate scoring threat and is very rarely used as a receiving threat. If the Jets want him to be the future of their team, Greene will need to expand his game, work on his ability to punish his opponents, and get a fiery desire to get in the endzone.
Bilal Powell: 5'10, 204 lbs. Drafted in the fourth round out of Louisville, Powell has great potential to be the future number 1 with the Jets. He amassed 1400 yards rushing in his senior year again formidable Big East defenses. He has good speed and can find holes both in the line and in the second level. We'll see how the transition to the NFL goes for Powell as well as how the labor situation affects his ability to make an impact at the next level. His presence puts Joe McKnight practically out of a spot on the active roster.
Joe McKnight: 5'11, 205 lbs. If Joe McKnight stays with the Jets, he will be remembered for one thing. Dropping a barbell on his trachea. McKnight was active for 9 games last year and despite having 4.8 yards per carry, he saw little increase in his playing time or carries. Granted, he is playing behind LT and Greene, but when the Jets drafted Powell this year, it showed that the Jets are not committed to McKnight as being part of their future plans. There are only two ways that McKnight will even see the field this year for the Jets. (1)Someone will have to get injured or (2) LT will have to retire and Powell will have to be a bust. I think it is more likely that McKnight is traded or released and that he sees more time with another team.
Carlos Brown: 6'0, 210 lbs. Undrafted out of Michigan, Brown has been a practice team player for the Saints and the Bucs and has never worn a Jets uniform. With this roster, watch for Brown to be released and added the the practice squad.
Chris Jennings: 5'10, 218 lbs. With 220 yards through nine games in 2009 with Cleveland, and playing last year with the Hartford Colonials, Jennings looks as though he will be fodder for the pre-season cut cannon.
AFC East #2 RB group: New England Patriots:
The Patriots will most likely let a lot of old talent loose into the free agent market and stick with their typical method of fitting below average individual players and putting them into situations that fit their very specific skill sets. A team that builds largely through the draft, the Patriots will likely go with the young guys that they have and let Tom Brady soak up the big money (At least for this year; see my breakdown on the QBs).
BenJarvus Green-Ellis: 5'11, 215 lbs. The Law Firm comes into the 2011 season as the 1st and second down RB who takes a more traditional approach to the position. When the Patriots need 1 yard, BJGE is who they turn to. Unfortunately, Green-Ellis suffers from a debilitating condition: Being on the Patriots. As a running back, Green-Ellis has the physical skills and the numbers to be a top level player in the NFL, except he plays on the team that is notorious for using 4-5 running backs per game. Imagine if he played for the Redskins for instance. With 4.4 yards per carry over the past two years, he would have had one of the best seasons in the league last year. Of course, he may have gotten injured. Playing for the Patriots does have some perks after all. As a RFA, he is the Patriots top running back between the tackles and will be brought back for another monster year as the Patriots' opponents spend most of their time blitzing Tom Brady or dropping back into coverage.
Danny Woodhead: 5'8, 195 lbs. The gadget man. Woodhead was actually one of the best players in college ball, except he played for Chadron State in Nebraska. He holds NCAA records for most games with over 200 yards rushing and for scoring in 37 straight games. With over 9,259 all purpose yards in his collegiate career (second all-time to Brian Westbrook), Woodhead was UNDRAFTED. Nobody took a chance on this guy in the 2008 draft. He was not invited to the combine (although he ran a 4.33 40). The Jets snuck in moments after the draft ended to pick him up on an undrafted rookie deal but placed him on IR for the rest of the year. In 2009, he rushed for 158 yards in a pre-season game, but failed to make the team and was waived and signed to the practice squad (making it through waivers). In 2010, Woodhead was waived during the regular season and picked up by the Patriots, who turned Woodhead into the devastating go to guy for Tom Brady. Running out of the tailback position mainly on third downs and splitting out wide to give the Pats a legitimate 4 and 5 WR sets, Woodhead gained 926 all purpose yards and scored 6 times. Woodhead is the next great undrafted rookie and will take many of Wes Welker's catches and yards this coming year. You do not have such incredible accomplishments in college and in the NFL without having a huge skill set and work ethic. Woodhead is the next big thing.
*Fantasy Note* PPR fantasy owners take note; Woodhead is usually a RB/WR and fits incredibly well in a fantasy lineup due to his versatility and productivity.
Fred Taylor: 6'1, 228 lbs/Kevin Faulk: 5'8, 202 lbs/Sammy Morris: 6'0, 220 lbs. At the tail ends of great careers, all three of these guys are FAs who will most likely not be pursued by the Patriots to resign.
Thomas Clayton: 5'11, 222 lbs. Drafted in the sixth round of the 2007 draft by the 49ers, Clayton has had an unremarkable NFL career, being signed for depth to multiple practice squads. In 3 non-IR years, Clayton has played in 3 games, gaining only 17 yards. Don't expect Clayton to make it through pre-season cuts.
Shane Vereen: 5'9, 203 lbs/Stevan Ridley: 5'11, 225 lbs. Vereen is a rookie drafted out of Cal by the Pats in the 2nd round of the 2011 draft. Ridley is a rookie who was drafted out of LSU by the Pats in the third round of the 2011 draft. Both are aberrations in the Pats drafting style as they were not incredibly productive in college, but were still drafted fairly high. Apparently, the Patriots fit a certain pattern, that both guys fit into, as having similar body types and similar numbers coming out of college.
All-Purpose Yards/TD
Vereen: 1376 / 16
Ridley: 1147 / 15
I believe that their respective sizes and the aforementioned RB-by-committee method motivated the Pats to look ahead and give themselves a deep lineup for many years to come.
AFC East #3 RB group: Buffalo Bills
The Bills RB group come in at #3 as they have the second best running back in the AFC east, but a lot of young guys who are struggling to make an impact and catch up to the game. This Bills roster shows a lot of promise, but still has a long way to go before they can be considered a great running corps. Gailey needs to find ways to make these guys more productive and get them up to NFL speed. The biggest factor in the number 3 ranking is the CBA. With the labor uncertainty, Gailey will likely not have much time to work with these guys and will probably not be able to coach them up to the level they need to be at this year.
Fred Jackson: 6'1, 215 lbs. Fred Jackson is a great story and a good player, showing how hard work and a great skill set can get you far in the NFL. With one invitation, Marv Levy showed that he is a better eye for talent than the former director of scouting Tom Modrak, bringing in a better player than Modrak ever did. Jackson is the best RB in the AFC East, with the best combination of power and versatility. With 7 total touchdowns last year, Jackson is a key piece in the Bills' offense. However, Gailey needs to find a way to make Jackson an even bigger part by including him in the passing game and even the running game more than he did last year. In 2009, Jackson had 1433 total yards from scrimmage with over a thousand yards rushing and 370 yards receiving. Last year, each of those numbers dropped to 1142, 927, and 215 yards respectively. Making room for the rookie? No, I don't buy it as in 2009 Marshawn had more yards carries and receptions that Spiller in 2010. Bottom line, Gailey needs to use Jackson better and in more ways than he did last year if he wants this team to be more productive and explosive next year.
C.J. Spiller: 5'11, 196 lbs. #9 overall pick in the 2010 draft out of Clemson, Spiller was a surprise pick by Buddy Nix (who had only been with the Bills for 3-4 months). Overall, his rookie season was disappointing with fewer yards and touchdowns than other guys who were drafted later (Gerhart, Matthews, and Best). It seems like he kept trying to make the same types of plays that he did in Clemson, instead of taking his game to the next level. I believe that Spiller has the tools necessary to be that flashy explosive RB in the Chris Johnson, Jamaal Charles type of mold. To do that he will need to get tougher, protect the ball better, and let the game come to him.
Johnny White: 5'10, 209 lbs. Johnny White is a fantastic pickup for the Bills. With a fifth round pick, they didn't spend very much to get him, but they ended up with a straight baller. After playing cornerback and wide receiver with the UNC Tarheels, White was converted into a tailback for his final year and was slated to break 1000 yards rushing, but was cut short when he broke his collarbone and finished the season with only 720. One injury and he fell to the fifth round. Johnny White could be a great complement to Fred and CJ, as he was a versatile, speedy, tough runner who was not afraid to run it between the tackles.
Quinton Ganther: 5'9, 220 lbs. It's surprising to see Quinton Ganther as the third RB on any team and I can't see it lasting through Free Agency (if it ever comes). Ganther has one quality game in his entire 5 year career, where he scored two touchdowns for the Redskins. Outside of the game Ganther has bounced from practice squad to practiced squad, and has been waived more times that Queen Elizabeth's glove. I do not see him on the Bills starting roster come fall.
The Bills Game Plan:
The Bills have one quality starter, a second year project, a rookie and a practice squad specialist on their lineup. That's it. With the high number of free agents coming up this year, I suspect that the Bills will make a move and bring in someone to share the carries and mentor CJ and Johnny White in how to be the dynamic running back the Bills need them to be. I do not think that we'll hit the market hard and pull in a high name, but I could see us bringing in a guy like Brian Westbrook or Cadillac Williams. They could also surprise me and pull in a second tier running back like Tim Hightower or Brandon Jackson to have another productive, versatile player to go with Fred Jackson, CJ Spiller and Johnny White.
AFC East #4 DT group: Miami Dolphins
The dolphins are ranked number four… again… To be honest, I'm thinking of applying for their GM job because their scouting and contract situations are horrible. How do you let your two best veteran running backs hit the FA market in the same year. Granted, the Phins need to rebuild this team from scratch, but typically there is some sort of transition involved! This is the NFL's version of tanking as they are just positioning themselves to get Andrew Luck next year.
Ronnie Brown: 6'0, 230 lbs. With 976 all purpose yards last year, Ronnie Brown showed that he can still be productive, despite being the offensive despair that is the Miami Dolphins. Brown comes into this year as a 30 year old FA who will most likely hit the free agent market as the Dolphins are looking for him to take a pay cut to stay there. Brown will be the next Thomas Jones, Ladainian Tomlinson, Cedric Benson (take your pick). You know those aging running backs playing for teams whose GMs are in a professional mid-life crisis, looking for sexier, younger college students who will make all their wildest dreams come true. Brown will go to another team and make a big difference their as he has shown that he still has a lot left in the tank. Granted he's no longer the 2nd overall pick talent that he once was, with less yards from scrimmage in 16 games than he had in 2007 when he only played 7 games due to injury. He can still help a team though and will not have a lot of trouble looking to the future. I could see a team like Philadelphia or St. Louis picking him up to add a nice one two punch to their rosters.
Ricky Williams: 5'10, 230 lbs. FA The other side of the formidable Wildcat defense that teams have figured out, Williams finds in self in a similar position as Ronnie Brown. Williams is now 34 years old with a history of character and loyalty issues that will put him in a more difficult position than Brown. He is older, had less yards, scored less than Brown. His best bet is that the Dolphins bring him back to a big one-year contract, make him the number one guy so that he can either try and find a better option next year or retire (again) with his pride intact. Williams has a better chance of farming in Columbia than becoming the number one guy on any other team but the Dolphins.
Patrick Cobbs: 5'8, 205 lbs. The youngest and least accomplished of the Dolphins Free Agents, Cobbs will find a flooded free agent market, and will have a hard time getting picked up this year. Future Hartford Colonial?
Lex Hilliard: 5'11, 240 lbs. After a decent collegiate career with Montana, racking up 4,697 all purpose yards and 52 touchdowns (despite a torn achilles in his sophmore year), Hilliard was drafted in the sixth round of the 2008 draft. With a total of 3 yards from scrimmage last year, Hilliard might finally get a chance to be a starting running back and show what he can do. With his 3.9 yard per rush and 7.9 yards per reception in 2010, Hilliard will at least be given an opportunity to compete for the top spot. Hilliard has a good chance of being one of the top two guys this year, keeping in mind that is not really a compliment.
Kory Sheets: 5'11, 206 lbs. Sheets is a practice squad warrior, who lacks the ability to compete for a role on the active roster. After stints with the 49ers, we'll see if he makes it to the beginning of the year.
Daniel Thomas: 6'1, 228 lbs. Drafted in the second round of the 2011 draft out of Kansas State, Thomas brings a real threat to the starting position of the Dolphins running corps. Thomas is the guy that Miami has bet the house on. With 1500 yards and ranking eighth in the nation during his senior year, Thomas has a tough, bruising style and will punish defenders for trying to tackle him. I don't think he could outrun Richie Incognito, but he'll earn those tough third-down yards that every team needs to be successful. Thomas is the guy that the Dolphins want to build around. Their season (and jobs) rely on his ability to succeed in the NFL.
Coming up next week (Tuesday, June 7th) I'll break down the AFC East Defensive Ends and I'll predict who the sack leader will be in 2011.
Image Credits:
Thurman Thomas: http://cache2.allpostersimages.com/p/LRG/19/1918/ROV9D00Z/posters/thurman-thomas.jpg
Fred Jackson: http://cache.daylife.com/imageserve/03hde25alkgXP/340x.jpg
BenJarvus Green-Ellis: http://www2.pictures.zimbio.com/gi/Benjarvus+Green+ellis+Jairus+Byrd+Buffalo+u7dlQLbbRBGl.jpg
Ladainian Tomlinson: http://assets.nydailynews.com/img/2010/08/29/alg_tomlinson.jpg
Ricky Williams: http://phinphanatic.com/files/2010/07/ronnie-brown-ricky-williams.jpg

Tags: AFC East BenJarvus Green-Ellis Bilal Powell Buffalo Bills Carlos Brown Chris Jennings Cj Spiller Daniel Thomas Danny Woodhead Fred Jackson Fred Taylor Joe McKnight Johnny White Kory Sheets LaDainian Tomlinson Lex Hilliard Miami Dolphins New England Patriots New York Jets Patrick Cobbs Quinton Ganther Ricky Williams Ronnie Brown Shane Vereen Shonn Greene Stevan Ridley Thomas Clayton